President Obama just sent a new Authorization for the Use of Military Force (AUMF) to Congress. This broad declaration of war would further drag the U.S. back into an endless, bloody, and expensive war in the Middle East.
Please urge Congress to OPPOSE the declaration of endless, worldwide war.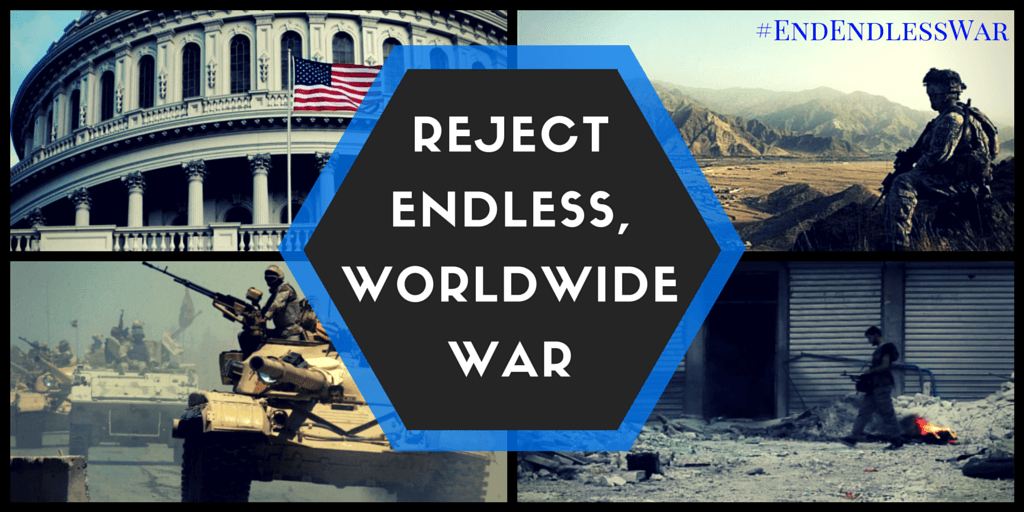 The American people, through Congress, deserve a say in this war. It is past time for Congress to meet its responsibility and have this debate. However, it is imperative that Congress consider what war has already cost our nation: more than 6,800 of our service men and women killed, tens of thousands more wounded, and trillions of dollars wasted. The U.S. is no more secure, nor is the region any more stable, as a result.
We need you to weigh in with your Members of Congress today, before Congress authorizes another endless war in the Middle East.
Now is the time to act. Members of Congress are deciding right now whether or not to support the President's request for a new AUMF. Congress will decide not only whether or not to endorse the war in Iraq and Syria but what restrictions, if any, to place on that war. With congressional hawks like Senator John McCain in control, there will be a push to send combat troops to fight ISIS, to expand the war into pursuing regime change in Syria, and to flood the conflict with American weapons.
The truth is that there is no military solution to the complex conflicts in Iraq and Syria. Sadly, much of the conversation in Washington is only about whether to bomb more or less, not about actually solving the underlying crisis. We all share in the desire to combat terrorism, protect America, and bring peace to the Middle East. But the idea that more war is going to produce a different result is the definition of insanity. It is time that we commit ourselves to the hard work of creating the conditions for peace instead of authorizing endless war.
Please take one minute to stand up against endless, worldwide war.