We just learned that, as early as next week, the U.S. Senate will take up dangerous new legislation that would kill diplomacy with Iran. The legislation, introduced by Senators Bob Menendez (D-NJ) and Mark Kirk (R-IL), is a renewed push for the very same anti-diplomacy sanctions that you helped fight and stop last year. Together, we won that battle, but with Republicans now in control of the Senate, we'll have to fight twice as hard to win this year.
Don't let Congress kill diplomacy! Please ask your Senators to stand up against the Menendez-Kirk bill.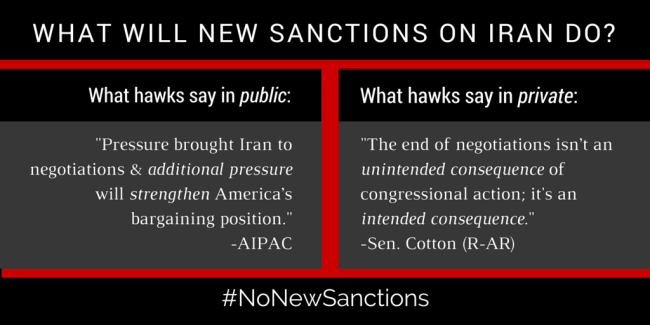 We know we can win because we've done it before. That's why we need you to call your Senators today!
1. Call the Capitol at (202) 224-3121
Ask for one of your Senators by name
2. Tell your Senator's office:
I'm from (city, state)

I support negotiations with Iran

I urge the Senator to OPPOSE the Menendez-Kirk Iran sanctions legislation

New sanctions would violate the interim nuclear deal, push Iran away from the negotiating table, and put us on the path to war with Iran.
3. Next steps:
Repeat this process to call your other Senator

Amplify our message

: share this post via email, Facebook and Twitter

Report back:

Let us know where your Senators stand on Iran