Last September, we secured a major diplomatic victory when Congress voted to uphold the nuclear deal reached by the UK, France, Germany, China, Russia, the US, and Iran. Since then, huge progress has been made in rolling back Iran's nuclear program.

We've come too far to let Congress snatch defeat from the jaws of victory. Sign our petition and urge Congress to defend the Iran deal.
Sadly, war hawks aren't giving up. Tomorrow, the House of Representatives will vote on H.R. 3662, the so-called Iran Terror Finance Transparency Act. This partisan bill would prohibit President Obama from delivering on sanctions relief, even if Iran fully complies with the deal. The timing of the vote — between President Obama's State of the Union speech and the deal's implementation date later this month — is a deliberately partisan act designed to undermine the President and weaken his legacy.
Will you sign our petition on MoveOn.org urging Congress to defend the deal?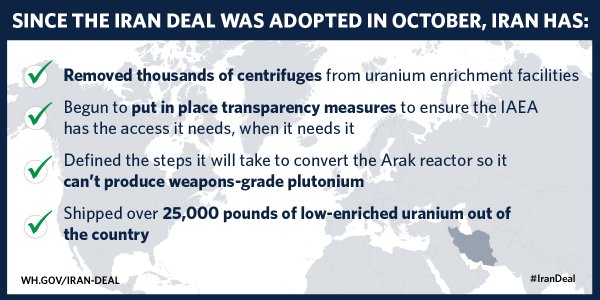 War hawks have made clear that they will treat the Iran Deal as they have treated the Affordable Care Act: with endless, partisan vote after endless, partisan vote to kill the deal. The bill's shameless sponsors are the same champions of the Iraq war who plotted to undermine the diplomatic talks over the last two years. We must send a strong message to Congress that this behavior is not acceptable. Especially during an election year, we cannot let political interests trump national security.
Please sign our petition and ask Congress to stand on the right side of history by supporting the Iran deal.
After you sign our petition, you can call your Representative directly to voice your support for the Iran Deal. Call Congress using FCNL's toll-free number at 855-686-6927 today!
By Angela Miller, Digital Director for the Win Without War Coalition