The Senate Foreign Relations Committee (SFRC) is set to vote on authorizing our latest war in Iraq and Syria. Please click here to see who is on the committee.
If one of your Senators is on the committee, your Senator needs to hear from you before the vote!
Call Congress by using this special toll-free* number: 877-429-0678. This number will connect you with the Capitol Switchboard operator, and you should ask to be connected to your Senator's office.
You can say: "I understand the Senate Foreign Relations Committee will be debating the use of force against ISIS. I urge the Senator to oppose authorizing force in Iraq and Syria. However, if there are opportunities to constrain the use of force, such as by prohibiting ground troops, I urge the Senator to support those constraints."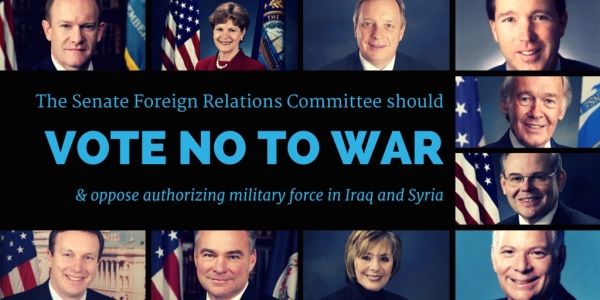 Now is the time to act. This is our last chance to restrain the war before the new Republican-controlled Congress comes to Washington. The SFRC's vote will decide not only whether or not to endorse the war in Iraq and Syria, but what restrictions, if any, to place on that war. With congressional hawks set to take the reins of power, there will be a push to send combat troops to fight ISIS, to expand the war into pursuing regime change in Syria, and to flood the conflict with American weapons.
The SFRC must seize this opportunity to end endless war. Please call your Senator and demand a vote against the war in Iraq and Syria: 877-429-0678.
Responding to violence with violence is not working — to improve safety or to defeat violent extremism. No use of force will solve the problems that plague the region. Violent extremism cannot be bombed out of existence. Instead, the U.S. needs to lead an effective response to stop the violence perpetrated by ISIS and to help people in the region restore security.
Now, finally, Senators will have a chance to vote on whether this military-focused strategy is the right way forward. Please call today: 877-429-0678.
Americans in uniform have already died in this war, and it is shameful that Members of Congress have so far hidden from their constitutional responsibility to debate and vote on such a monumental issue. Americans deserve to know whether our elected officials support yet another endless war in the Middle East or are ready to stand up for peace.
*Toll-free number provided by the Friends Committee on National Legislation, a Win Without War coalition member