Digital Campaigns Director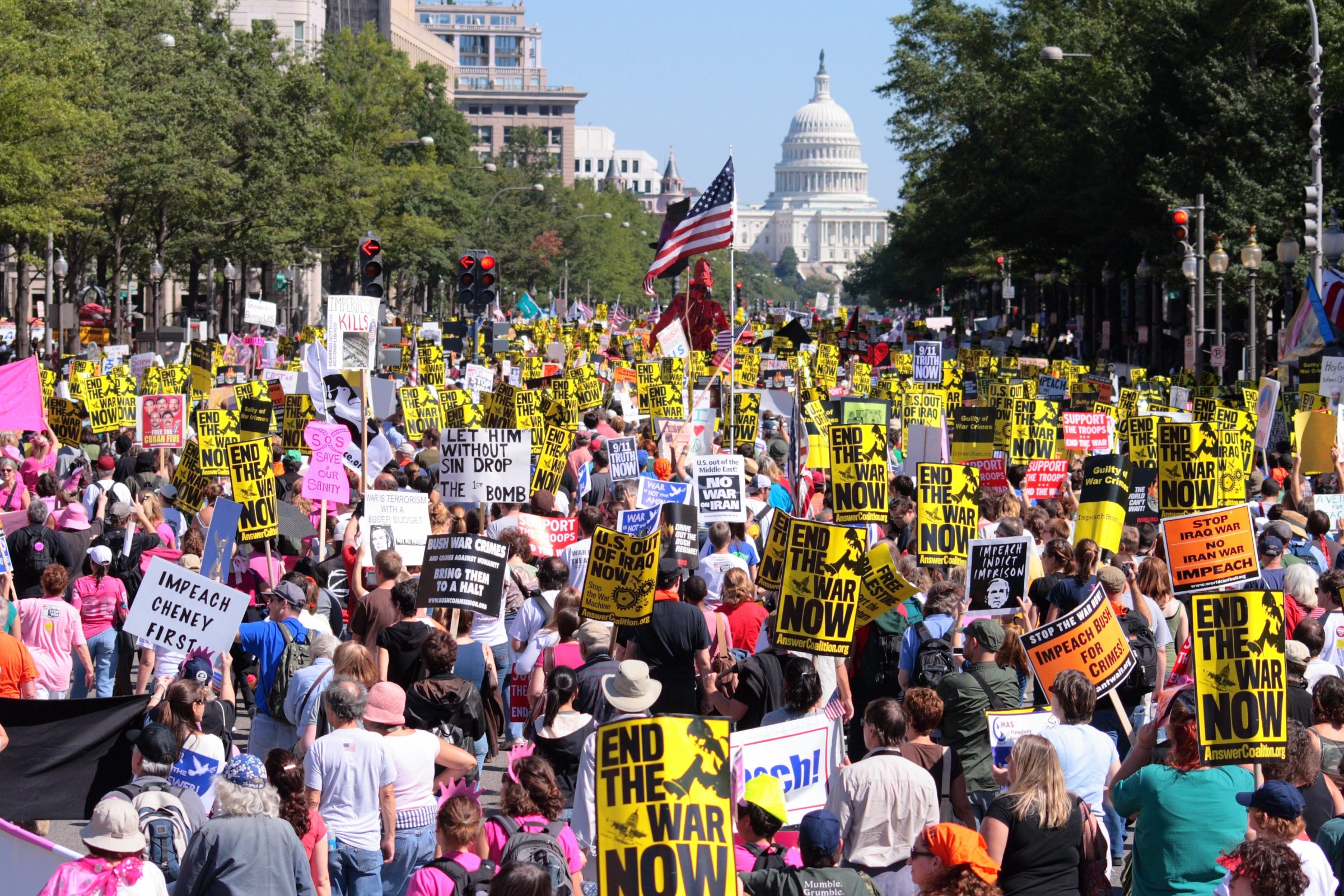 ---
About Win Without War
Win Without War is a diverse network of activists and organizations working for a more peaceful, progressive U.S. foreign policy — and that's put us on the forefront of the fight against some of the most frightening and inhumane foreign policies of this Administration.
We're leading campaigns to end U.S. support for Saudi and Emirati-led war in Yemen — helping pass an unprecedented bipartisan Congressional rejection of Trump's policy. We're working with congressional allies to pass legislation that'd take Trump's finger off the nuclear button. And we're a leading voice in a powerful coalition campaign to make sure John Bolton and Trump don't lead us into a war with Iran.
We believe that by democratizing U.S. foreign policy and providing progressive alternatives, we can achieve more peaceful, just, and common-sense policies that ensure that all people — regardless of race, nationality, gender, religion, or economic status — can find and take advantage of opportunity equally, equitably, and feel secure around the world.
It's a big, ambitious agenda, but our team is small and mighty: organizers, advocacy and issue experts, political strategists. Every day we bring our activists into Washington's foreign policy debates and support a network of partner organizations as we advance progressive solutions. We'd love you to join us.
The Position
Over the past 3 years, Win Without War has focused on growing our base of digital activists and mobilizing them across a range of foreign policy and national security issues. Now half a million strong, with a committed core of online donors, we believe the stage is set to exponentially increase our impact, fundraising, and activist base — and we're seeking a Digital Campaigns Director to join us for this exciting challenge.
Here's what you'd do in the job:
Lead a dedicated, passionate digital team that includes campaigns, tech, and social media.
Identify opportunities for high-impact digital campaigns that will excite and engage our members, grow our activist base, and inspire change.
Drive creative thinking about digital campaigns, storytelling, and engagement at all levels of the organization.
Drive organizational digital strategy, assessing tech tools, campaign strategy, and development/fundraising needs and potential.
Assist in digital campaigning, including writing compelling petitions, emails, and fundraising appeals (often on tight deadlines) to mobilize our activists to take action on a range of foreign policy and national security issues.
Play a leading role in the email process from start to finish: drafting, editing, setting-up, and analyzing emails.
Plan, support, and execute high-impact events such as in-person petition deliveries, rallies, and house parties.
Represent the organization at relevant meetings and events, on conference calls with partners, and on progressive and foreign policy listservs.
Other duties as needed.
You could be great for this job if you:
Are excited about the challenge of running and growing a digital campaigning program.
Have a minimum 4 years of experience* in email advocacy, digital fundraising, or online organizing, including experience with CRMs, blast email and/or digital activism tools.
Have the experience or capacity to lead a dynamic team, support their professional development, effectively delegate, and project manage multiple simultaneous workstreams.
Have nuts-and-bolts organizing and/or rapid-response campaigning in an electoral or advocacy setting.
Write in a clear and compelling way, whether it's engaging emails to motivate our activists to take action or concise, informative updates to other staff members.
Possess a strategic sense allowing you to identify political opportunities where grassroots and online activism can deliver progressive victories, and the ability to articulate the strategic rationale for our actions to diverse audiences.
Have a strong and consistent attention to detail.
Comfortable working with basic HTML and Excel formulas.
Have strong organization skills and the ability to handle competing priorities without letting key tasks slip through the cracks.
*"Experience" does not necessarily mean full-time, paid experience.
Everyone at Win Without War has:
A passionate commitment to progressive values, and to our vision of a U.S. foreign policy rooted in those values.
A willingness to be nimble and work without ego as part of a proactive team of leaders.
A commitment to the necessity of equity and working to dismantle systems of oppressions.
The ability to rapidly develop a working understanding of the politics of national security as it involves Congress, the Executive Branch, civil society institutions, social justice movements, material forces, ideology and political culture.
The ability to work independently when necessary, manage projects, and execute multiple simultaneous tasks on tight deadlines.
A healthy sense of humor.
Fluency in written and oral American English.
Experience in one or more of the following areas isn't required, but is a plus:
Managing and growing a large email list (100,000+ subscribers).
Leading issue campaigns for an organization working on a national and/or global scale.
Building effective partnerships or coalitions with advocacy and/or activist groups.
Graphic design or videography, particularly anything demonstrating an aptitude for creating creative and compelling social media content.
SQL or other database experience.
Familiarity with ActionKit and/or WordPress.
Familiarity with Django, CSS, Javascript etc
Understanding of the operations, structures, and incentives in foreign policy and national security decision making.
Knowledge and relationships with policy experts, campaigning groups, and/or activists groups in key issue areas, particularly within communities of color and working class communities.
Location: Washington, D.C. preferred. Highly qualified candidates located elsewhere in the continental United States will be considered, so if you're excited by this role submit an application/cover letter and we'll cross this bridge if we come to it.
Salary: $80,000 per year. We also offer a generous benefits package, including health, vision, and dental, paid vacation, and a retirement program. The position is full time, classified as exempt, and is at-will.
Start Date: As soon as the candidate is willing to start, with a strong preference for a start date in August 2019.
How to Apply
Please send a resume and a thoughtful cover letter that specifically emphasizes why you think you'd be excellent in this particular role, including why a more peaceful progressive U.S. foreign policy is important to you and why you want to lead and grow our digital campaigning to [email protected]. Please include "Digital Campaigns Director" in the email subject line.
This is a writing-intensive role, so please use your cover letter as a way of demonstrating your ability to write in a clear, persuasive and engaging manner. This position will remain open until filled.
If you have questions about this role or the application process, please direct them to [email protected]
Win Without War recognizes the importance of diversity and inclusion, particularly from communities disproportionately harmed by the militaristic nationalism driving U.S. foreign policy.
We welcome applications from all, and especially encourage women, people of color, people with disabilities, immigrants, refugees, Muslims, veterans and LGBTQ people to apply. We can't wait to hear from you!