Thank you for signing up to join our first ever peer-to-peer fundraising campaign!
There are just a few steps to make your own Win Without War fundraising page on ActBlue's website! It should take a few minutes, we've got you covered with step-by-step instructions – and most of all this time will mean you can help supercharge our movement.
Creating an ActBlue Account
We're here to walk you through each step. If you have any questions, please reach out to yint@winwithoutwar.org.
To start creating your page go to this link: https://secure.actblue.com/brandings/231090/lists/new.
You will be sent to a page where you can log in or create an Act Blue account.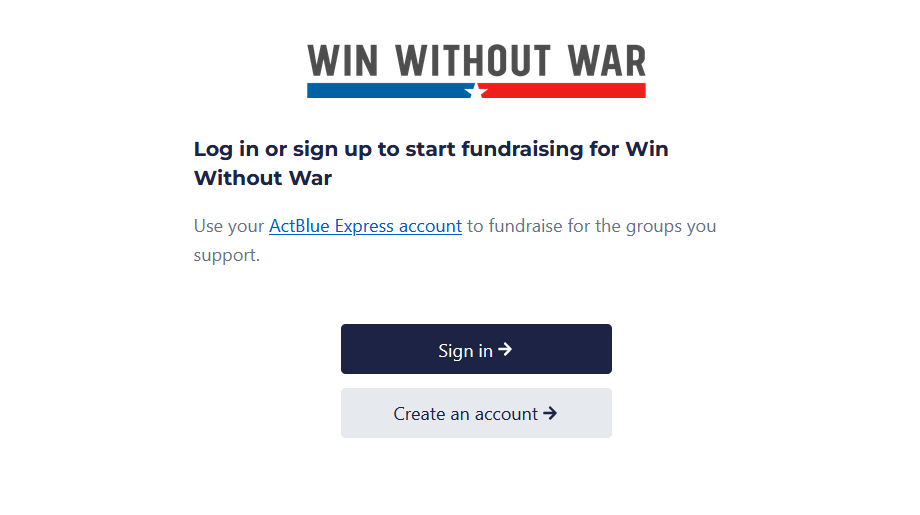 If you don't already have an account, click on the gray button. It will take you to a page to create an account: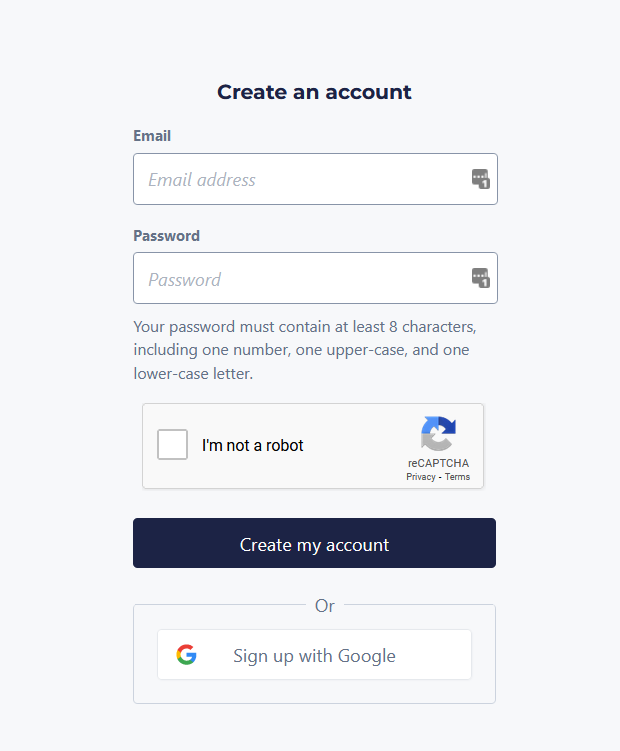 Creating an account is simple. ActBlue will ask for your email address, and for you to create a password. Once you fill out this page, ActBlue will send an email to your inbox. To confirm your account, open this email and click on the link inside. You will then be able to return to Win Without War's ActBlue link and log into your account!
Creating Your Supporter Form
Once you're logged into your ActBlue account, you will see a page asking you to create a donation form for Win Without War. It will want you to fill out three things:
Form title: This is where to make a title for your donation webpage. Here's our suggestion:
"Help me raise money to stop a global nuclear arms race!" Of course, feel free to use whatever title you think best communicates our organization's mission.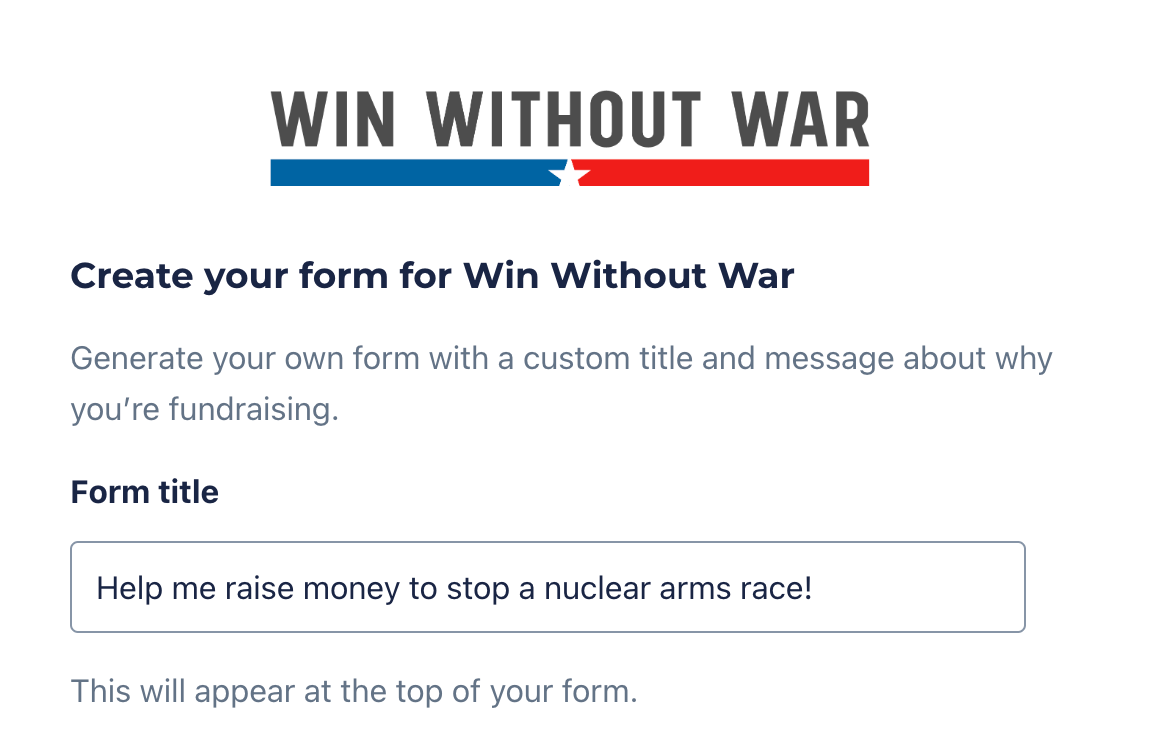 Your form link: ActBlue will require a unique URL for your page. The site will ask you to type in a phrase that identifies your donation page as your own! This identification can be anything — such as your name + "donationpage." ActBlue will immediately tell you if this phrase is available.

Form ask: This is where you can add additional text, describing Win Without War's work and fundraising goals. You can write your own description or you can copy-and-paste ours into the box:
I'm raising money for a cool organization called Win Without War! They're a small progressive foreign policy non-profit focused on peace and human rights. They work with members of Congress like Rep. Barbara Lee, Rep. Pramila Jayapal, Senator Bernie Sanders, Senator Elizabeth Warren, and others. Right now, they're gearing up to stop a new nuclear arms race in Congress and I'm supporting them because I want to live in a world free of nuclear weapons.
         Please donate however much you can! 
You can also create your own description of our organization and elaborate on your relationship to our work and fundraising.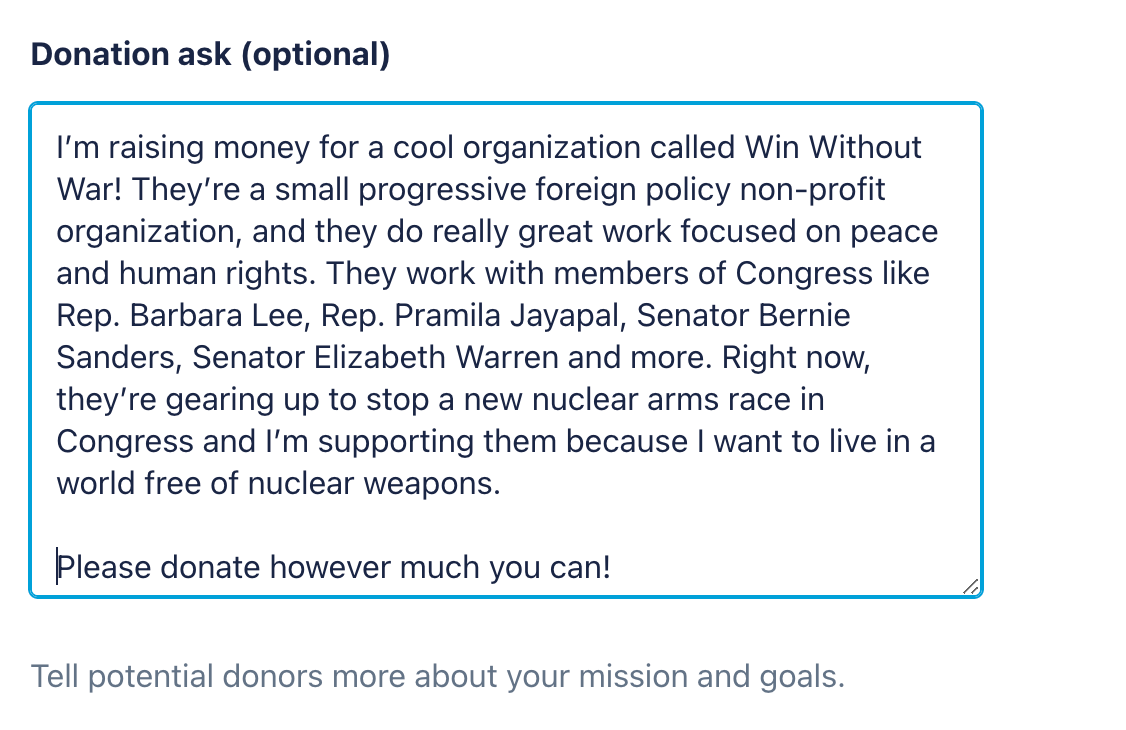 When you've filled out these three boxes, you can click on the black "Get Started" button at the bottom of the page. ActBlue will create your new fundraising webpage.
Customizing Your Supporter Page
Welcome to your webpage! Since you've already created your personalized link, you won't have to do anything else at this point. The link is ready to share now. However, if you'd like, you can also edit your webpage at this point by clicking on the blue "Edit" button in the top left corner of your page.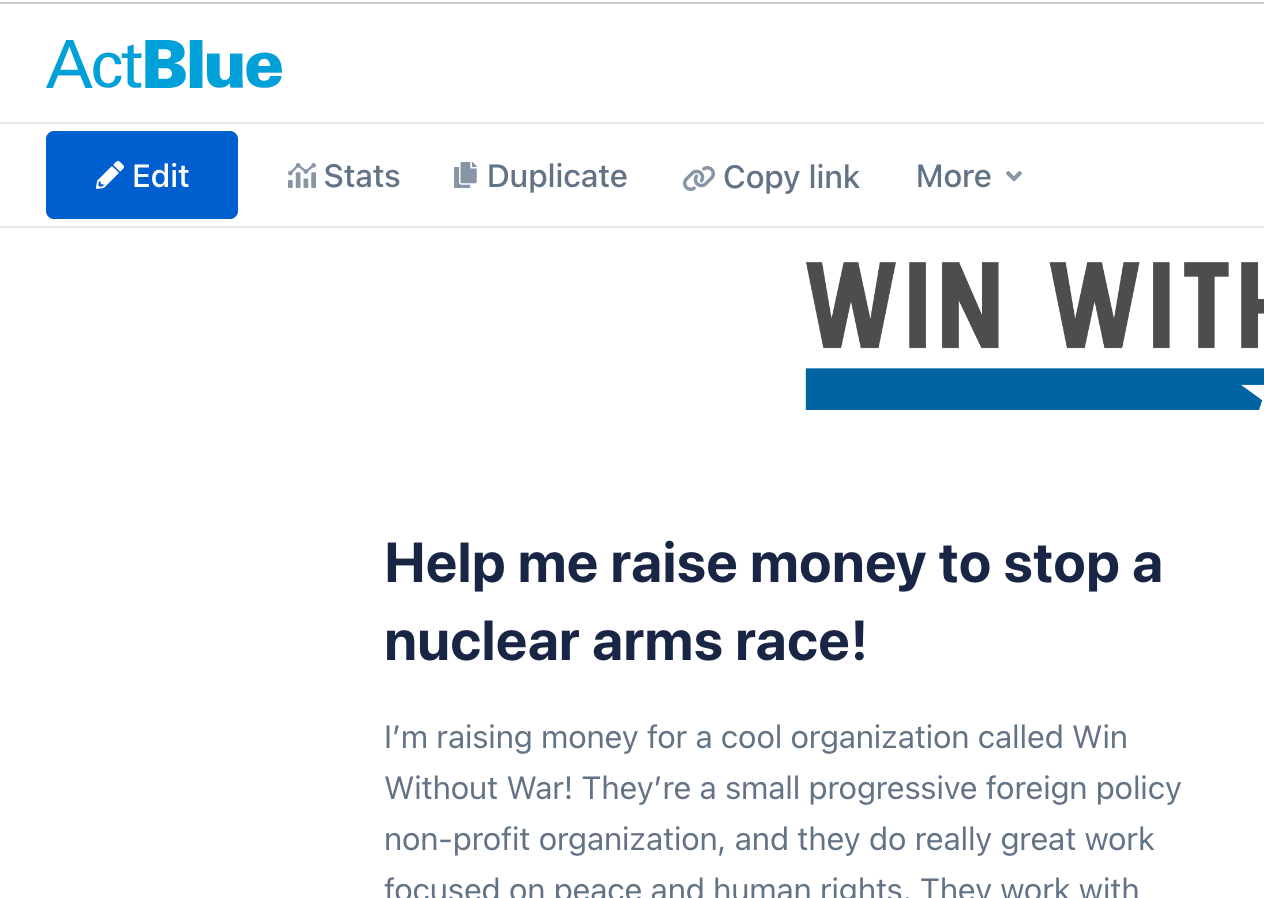 Select "Preset donation amounts."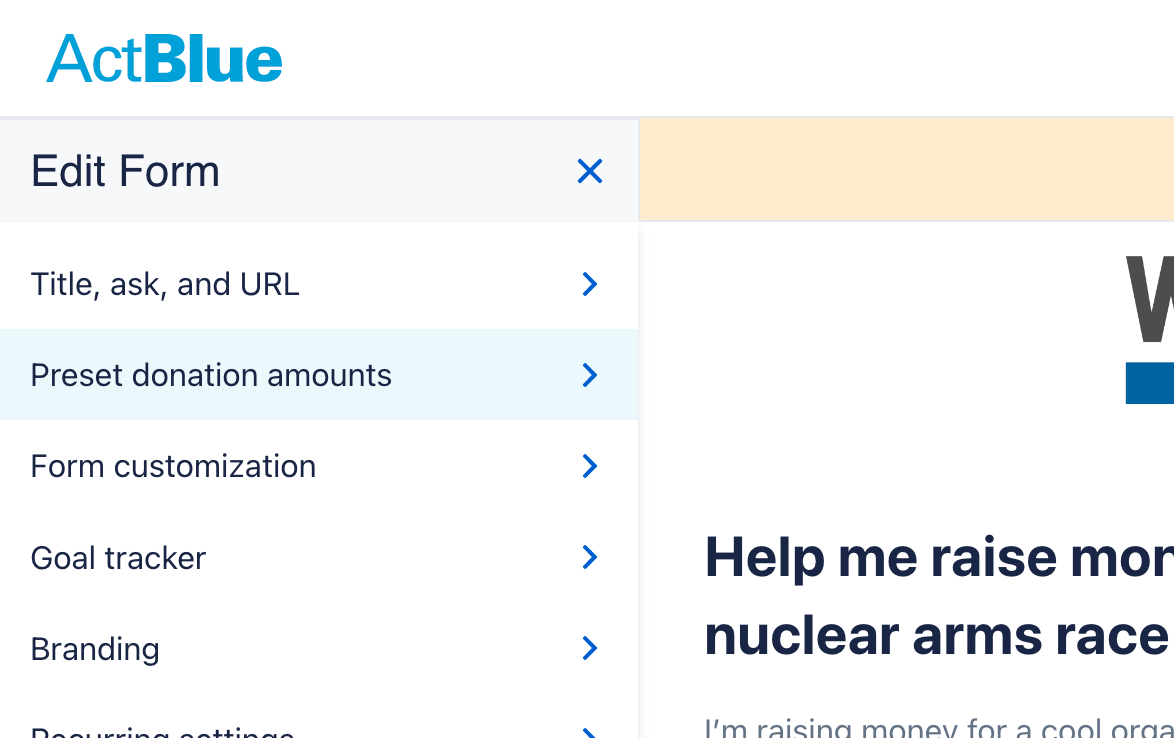 And add your donation suggestions! Click "Publish" to save your settings.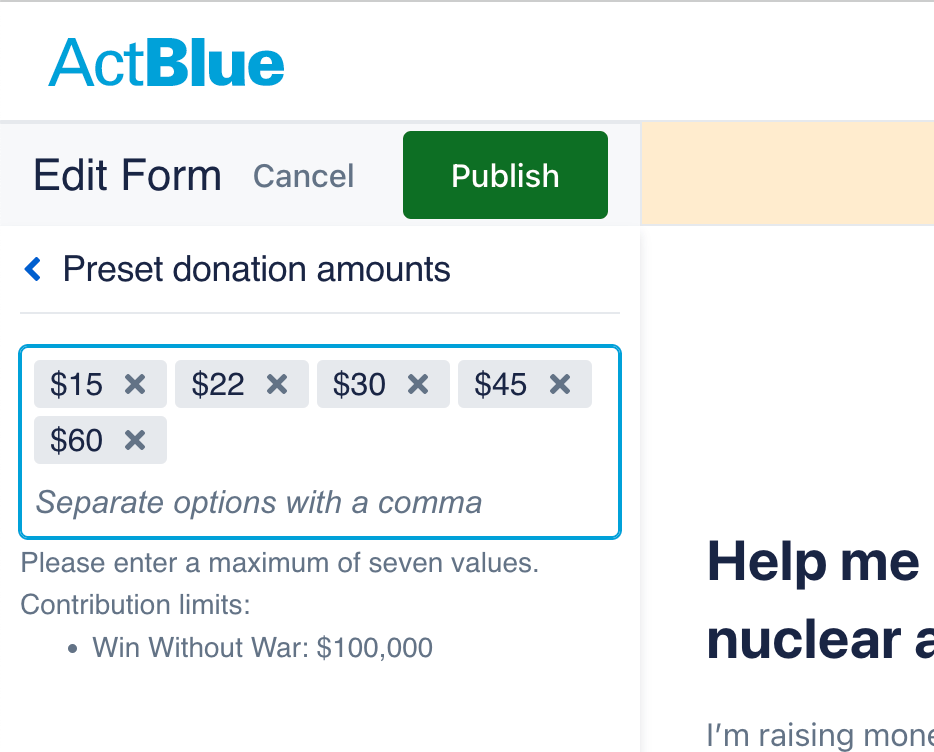 Fundraising With Your Supporter Page
Now that your supporter page has been published, you can share it with friends and family. You can click on the "copy link" button on the top left of your webpage, and then paste the link (by clicking Edit > Paste) in an email, text message, or social media post. Feel free to describe why you support Win Without War, or any work we've done that's resonated with you, when you share your fundraising link. For example:
"Some of you may know that I'm a Win Without War Activist! They're an organization that was founded after the Iraq war to help fix the broken status quo in DC. They do amazing work, from supporting diplomacy to pushing for cuts to the pentagon budget and pushing back on weapons manufacturers. Especially with the new Congress, they will have their work cut out for them. Will you join me in donating to them this year?"
Thank you so much for your activism for peace, now and over the past 20 years of Win Without War's existence!