Tracking the Crisis in Israel and Palestine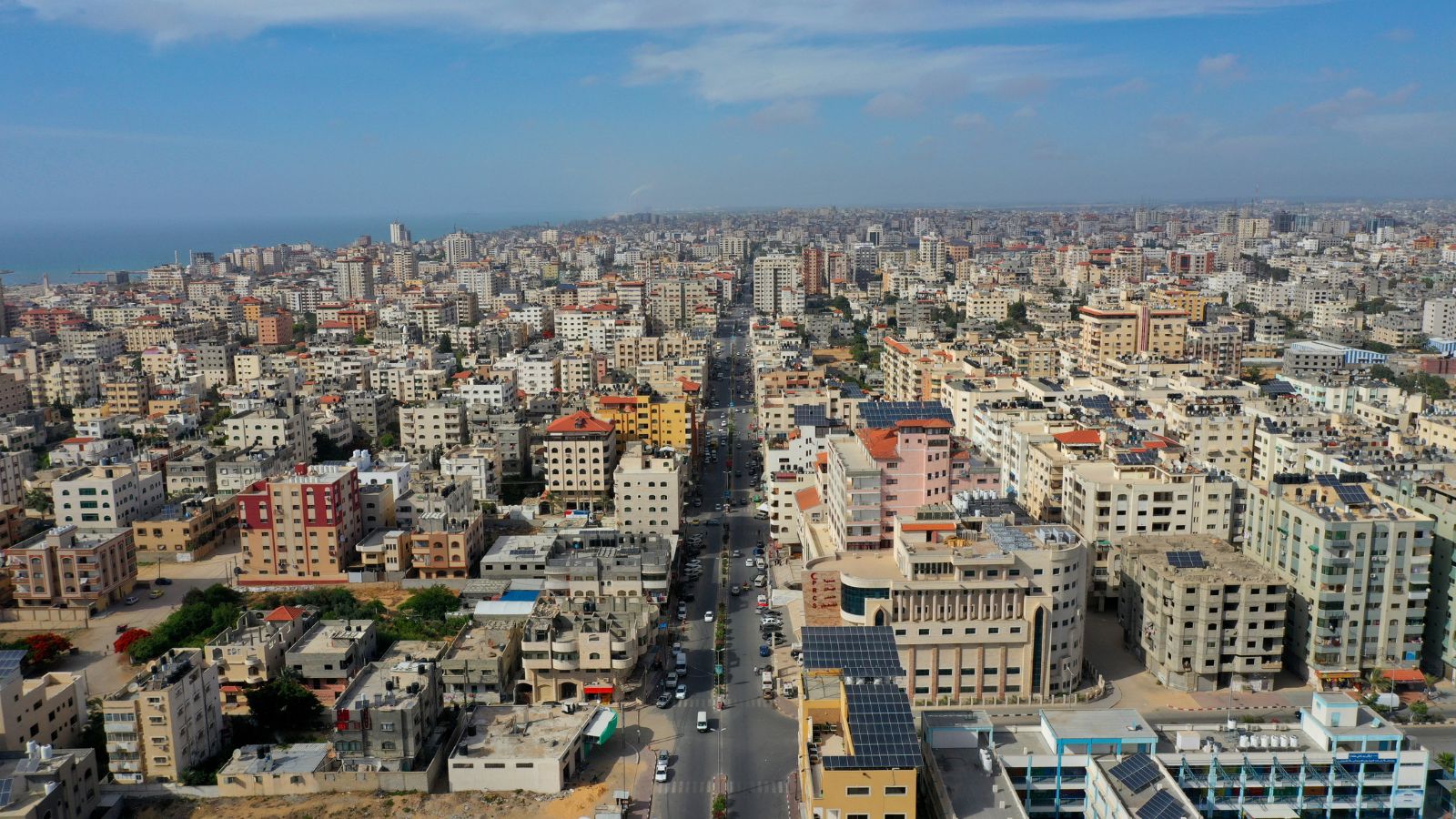 ---
Last Updated on December 5, 2023.
A news and information roundup to help all those working to end the fighting, protect humanitarian access, and prevent the outbreak of regional war.
Tuesday, December 5, 2023
Key updates and messaging
News: Intense Israeli bombardment across Gaza
Analysis: With the end of the seven-day temporary ceasefire, the Israeli military has resumed its heavy bombardment of Gaza and said it is expanding ground operations "in all of the Gaza Strip." From the Jabalia refugee camp in the north to the southern city of Khan Younis, civilians are facing the Israeli military's lethal strikes that have already killed 900 people since the end of the temporary ceasefire. Telecom services are now down in Gaza City and northern parts of Gaza, according to one of Gaza's main telecommunication companies, once cutting people there off from the rest of the world. A State Department spokesperson said it was too early to know whether the Israeli government is abiding by U.S. calls to protect civilians in the resumed fighting. 
Suggested messaging: 
We are deeply concerned by the level of violence and forced displacement civilians are facing across the Gaza Strip and urge the White House and members of Congress to redouble their efforts to secure a renewed, lasting ceasefire. 

The Biden administration must exert further pressure on the Israeli government to immediately halt its expanded ground operations and avoid repeating the strategic failures of the horrific ground operations in the north. 
News: Regional violence continues after one-week pause
Analysis: Regional tensions, which had eased during the temporary ceasefire in Gaza, have ratcheted back up since the resumption of the Israeli government's bombardment of Gaza. Violence between Israeli and Hezbollah forces has continued every day since the temporary ceasefire between Israel and Hamas. In the Red Sea, the Houthis claimed attacks on commercial vessels that came under fire on Sunday and a U.S. warship shot down three drones during the attacks. No U.S. Navy ships are thought to have been targeted during the attacks, but early reports that they were indicate the risks of escalation in the crowded shipping lanes of the Red Sea. The Houthis have promised more attacks if the Israeli military does not stop its war in Gaza. 
The temporary ceasefire in Gaza resulted in real de-escalation not only in Israel and Palestine but across the entire Middle East. In fact, during the ceasefire, there were no attacks on US troops in Iraq and Syria, following a total of 73 attacks against U.S. troops there from October 17 to November 23, the day the temporary ceasefire started.

Suggested messaging: 
People across the Middle East — in Israel, Palestine, Lebanon, Syria, and Yemen — all need a lasting ceasefire in Gaza to live safely without fear of regional escalation and all-out war. 

The ceasefire brought a halt to escalatory attacks on U.S. troops in the region. The lack of a ceasefire in Gaza directly threatens their safety.
News: US sends Israel 2,000lb bombs
Analysis: The Biden administration has sent the Israeli government one hundred "bunker buster" bombs meant to penetrate hardened structures before exploding, according to the Wall Street Journal. U.S. officials have urged the Israeli government to avoid harming civilians in its bombardment of Gaza, but it is difficult to see how "bunker busters" – or many of the other weapons the U.S. has sent to Israel since the bombardment of Gaza began – could plausibly be used in Gaza without killing innocent people. The Biden administration undermines its credibility when it both asks the Israeli government to minimize civilian harm and provides the IDF with weapons that practically guarantee civilian harm. 

Suggested messaging:  
The Biden administration needs to walk the talk about civilian protection – stop providing the IDF with weapons likely to kill civilians and get serious about pushing for a lasting ceasefire that will save lives.

The Biden administration must stick to its own revised Conventional Arms Transfer (CAT) policy, which rules out transfers where serious international humanitarian law violations are "more likely than not."
Humanitarian situation: Tracking the human cost of the Israeli military campaign in Gaza
Further Win Without War resources
###
Friday, December 1, 2023
Key updates and messaging
News: Ceasefire breaks down, threatening to deepen catastrophe
Analysis: Under mutual recriminations between Hamas and the Israeli government, the temporary ceasefire ended today. At the time of writing, the Israeli bombardment of Gaza has resumed, reportedly killing more than 100 people and appearing to focus on the south, where Israeli officials told Palestinians to flee for safety in October. Hamas rocket attacks into Israel have also resumed. The Biden administration continues to back negotiations to restart the ceasefire, though Qatari officials engaged in mediation between the parties have stated that the resumption of hostilities are complicating these efforts. 
The ceasefire was a diplomatic breakthrough that allowed the freeing of hostages, desperately needed humanitarian relief for Palestinians in Gaza, and a ratcheting down of regional tensions. It showed, for even a seven-day stretch, that a more lasting ceasefire and a diplomatic pathway to end the conflict are possible and must be pursued. Its collapse is an utter nightmare for Palestinians, Israelis, and people in neighboring countries. The Biden administration and members of Congress must redouble diplomatic efforts to renew the ceasefire. Saving lives, freeing hostages, and ending this cycle of violence must be the overriding objective of the U.S. government.
Suggested messaging: 
We are gravely alarmed by the breakdown of the ceasefire and urge the Biden Administration and members of Congress to redouble their efforts to secure a renewed ceasefire. 

We strongly condemn all efforts to deepen this conflict – including further Hamas attacks on Israeli civilians and the Netanyahu government's unthinkable bombardment of southern Gaza, where more than one million displaced Palestinians are attempting to shelter.

Saving lives, freeing hostages, and ending this cycle of violence must be the overriding objectives of the U.S. government. 
News: Palestinian gunmen attack in Jerusalem 
Analysis: In the run-up to the ceasefire's collapse, worrying harbingers of escalation in and beyond Israel surfaced. In Israel, two Hamas militants from East Jerusalem shot and killed three Israeli civilians. One other Israeli civilian, mistaken for being one of the attackers, was shot dead by Israeli security forces at the scene. Likewise, amid a lull in fighting at the Israel-Lebanon border due to Hezbollah's commitment to the Israel-Hamas truce, the Israeli military said it intercepted an "aerial target" that crossed from Lebanon on Thursday. In response, Israel shelled near a southern Lebanese village.
Suggested Messaging: 
These recent developments, especially the horrific attacks by Hamas gunmen in Jerusalem, reinforce the fragility of the situation regionally and the potential for escalation at any moment – another reason for the Biden administration and its allies to push harder for a lasting ceasefire.



News: Gaza residents' experience of ceasefire
Analysis: Before the breakdown of the ceasefire deal, people in Gaza were experiencing a much-needed respite from seven weeks of the Israeli military's continuous airstrikes. But the calm did not come with ease. As people headed to markets to purchase food and winter clothing, they faced sky-high prices and blamed shopkeepers for exploiting their desperation. As a result of the Israeli government's siege of Gaza, people are wrestling with inflation of between 300% and 2,000% for everyday products, while the increased volume of humanitarian aid is still insufficient to meet the needs of people across the strip. 
The ceasefire also gave thousands of people the chance to return to their homes, particularly in northern and central Gaza where the Israeli military ordered evacuations. But many found their homes and neighborhoods destroyed, the result of the Israeli military's indiscriminate bombing of civilian targets. One mother who returned to her destroyed home in Abasan, Khan Younis, told Al Jazeera, "We will rebuild."
Suggested Messaging: 
Though a temporary ceasefire provided tremendous relief to Gaza's residents, a lasting ceasefire is imperative for Palestinians to have stability and the opportunity to rebuild their lives without the constant threat of war. 
Given the massive economic toll and the unimaginable widespread destruction caused by the war across the Gaza Strip, more humanitarian aid is desperately needed – but aid deliveries

can't increase

with the resumed bombardment of Gaza. 
Humanitarian situation: Tracking the human cost of the Israeli military campaign in Gaza
Further Win Without War resources
###
Tuesday, November 28, 2023
Key updates and messaging
News: Temporary ceasefire deal extended
Analysis: Negotiators from Israel and Hamas have agreed to extend a temporary ceasefire deal in the Gaza Strip by an additional two days. While specific details remain unclear, an Egyptian representative announced that the extension would involve the release of 20 Israeli hostages taken by Hamas on October 7 in exchange for 60 Palestinians held in Israeli jails.  Both Hamas and Israeli forces adhered to the guidelines of the original four-day ceasefire, leading to the release of 51 Israelis and 19 foreign nationals taken on October 7 in exchange for 150 Palestinians held in Israeli custody. News of the extension is welcome for the millions of Palestinian civilians who have endured seven weeks of the Israeli government's indiscriminate bombardment, which has killed civilians at a "historic pace". The ceasefire is also welcome for the families in Israel and across the world who continue to await their loved ones' safe return home. The Biden administration played a key role in negotiating the ceasefire extension, and CIA Director William Burns is now in Doha for a new round of negotiations to free more hostages – further evidence of Biden's ability to secure de-escalation and important progress in the conflict through diplomatic pressure.
Suggested Messaging: 
We welcome news of the temporary ceasefire's extension in Gaza and urge all parties to continue respecting its guidelines so that all hostages may return to their families and people in Gaza may find safety and aid. 

This extension shows how effective the Biden administration can be when it commits to de-escalation – now is the time for the president to push for a lasting ceasefire that can provide safety to people in Gaza, free all remaining hostages, and ease regional tensions. 
News: Increased humanitarian aid brings crucial relief
Analysis: The temporary ceasefire in Gaza has enabled aid agencies to scale up operations, with trucks transporting essential food, water, and medicine throughout the strip. Aid has even reached northern Gaza, the target of Israel's ground invasion, for the first time in over one month. On Tuesday, the White House announced its first relief flights facilitated by the US military to provide aid to Gazans. While people in Gaza are seeing the largest volume of aid since the resumption of humanitarian convoys to Gaza on October 21, it barely matches the scale of need, suffering, and destruction in Gaza. Fuel deliveries during the ceasefire amount to only 10% of the daily volume sent before October 7 and have yet to reach hospitals in northern Gaza where it is desperately needed. UN Secretary-General Antonio Guterres acknowledged that "even with that additional amount of time [of the ceasefire], it will be impossible to satisfy all the dramatic needs of the population." 
Suggested Messaging: 
Following weeks of Israel's unrelenting siege and indiscriminate attacks against civilians in Gaza, we are relieved to hear that aid is entering the Strip at increased levels, applaud the White House's role in aid delivery, and express our gratitude for those working on the ground to distribute these critical resources. 

These aid convoys are not the lasting solution to the humanitarian crisis in Gaza. The only way to truly meet the humanitarian needs of the civilian population in Gaza is to establish a permanent ceasefire so that everyone, both in Palestine and in Israel, is safe. 
News: Three Palestinian students shot in Vermont
Analysis: Over the weekend, three university students of Palestinian descent — Hisham Awartani, Kinnan Abdalhamid, and Tahseen Ali Ahmad, best friends visiting one of their grandmothers for Thanksgiving — were shot in Burlington, Vermont. . The suspect connected to the shooting has been charged with attempted murder, and authorities are investigating whether the shooting can be characterized as a hate crime. This attack occurred amidst a sharp rise in Islamophobia in the U.S. since October 7.

Suggested Messaging: 
We can't accept a situation where Muslims in the U.S. fear violence at their family Thanksgiving celebration or any other part of their daily lives. 

The conflict in Gaza, and the cruel policies and hateful rhetoric that drive it, make Muslims and Jews in the U.S. and around the world less safe. We need to de-escalate the conflict and lean into recognizing, not denying our shared humanity. 
Humanitarian situation: Tracking the human cost of the Israeli military campaign in Gaza
Further Win Without War resources
###
Tuesday, November 21, 2023
Key updates and messaging
News: Temporary Gaza ceasefire deal near
Analysis: Israeli officials are expected to announce a deal that will see some 50 hostages held by Hamas freed, a four-day ceasefire that could be extended to five, and a number of Palestinian prisoners released from Israeli custody. The deal is welcome news, both for families of hostages who will have their loved ones returned safely to them and for Gazans who will get a reprieve from the intense violence of the ongoing Israeli government offensive. It also showcases the role that the U.S. can play in securing de-escalation. The Biden administration played a key role in shepherding the deal to its conclusion and deserves credit for that.  The administration can and should leverage its power and relationships to bring about the kind of lasting ceasefire that will provide safety to Gazans, free the remaining hostages, cool tensions in the region, create the opportunity for genuine accountability for the perpetrators of the October 7th attack, and open a pathway towards a sustainable and just peace. 
Suggested messaging:
We welcome this deal and hope that the pause in violence creates a genuine pathway to a lasting ceasefire and the return of all hostages to their families.

The deal makes it clear that a long-lasting ceasefire is possible and that U.S. leadership can help make it happen. The Biden administration should be doing all it can to extend this pause and achieve a durable ceasefire.
News: More members of Congress endorse a ceasefire
Analysis: In the past week, the number of members of Congress endorsing the calls for a ceasefire in Gaza continued to grow, with the count now standing at 43 representatives and two senators. As a supplemental funding bill that includes military aid to the Israeli government awaits its day in Congress, support on the Hill for a "no red lines" policy of supporting an Israeli offensive that has already killed well over 11,000 Gazans with no end in sight is eroding. More members are likely to join the chorus of voices calling for a ceasefire, responding to grassroots pressure, the political reality that a ceasefire is hugely popular, and their own analysis of the situation on the ground. 
Suggested messaging:
Congressional calls for a ceasefire are mounting, reflecting a deep unease within the Democratic caucus about potential U.S. complicity in the Israeli government's collective punishment of people in Gaza, which has not and will not produce security for people in Israel or hostages taken in the October 7 attacks.

A ceasefire remains highly popular across the country, and we should expect the list of congressional supporters to only grow in the coming days as they continue hearing from their constituents and colleagues. 
News: Houthis hijack Israel-linked ship 
Analysis: On Sunday, Houthi fighters seized a cargo ship in the Red Sea and took its 25 crew members hostage. A Houthi military spokesperson framed the action as a "response" to Israel's continuous bombardment of the Gaza Strip. Though the ship is British-owned and Japanese-operated, the Houthis claimed the ship was linked to Israel and warned that any vessel linked to Israel "will become a legitimate target for armed forces."  

Suggested messaging: 
Israel's offensive in Gaza continues to drive regional escalation. 

To mitigate the risk of further violence and a broader war in the Middle East, the Biden administration should push the Israeli government to establish a ceasefire immediately. 
Humanitarian situation: Tracking the human cost of the Israeli military campaign in Gaza
Further Win Without War resources
###
Friday, November 17, 2023
Key updates and messaging
News: Israel expanding its ground invasion

Analysis: The Israeli military has issued evacuation orders on the eastern edge of Khan Younis, the biggest city of southern Gaza, where tens of thousands of Palestinian civilians have fled as they seek refuge from Israel's airstrikes and ground invasion in the north. During peacetime, more than 100,000 people who lived in these southern towns are now being ordered to evacuate. Some civilians described leaflets warning them to leave being dropped, resembling the ones dispersed in northern Gaza before the Israeli military's ground invasion. There are now reports of airstrikes by Israeli forces in southern Gaza, in regions residents of Gaza City were once directed to evacuate to.
Suggested messaging: 
The IDF is now targeting a region to which it originally forced Gazans to flee and promised safety, undermining the fiction that there is any safe place for civilians in Gaza. 

This points to a desire by the Israeli military  to expand its ground invasion of Gaza, which only underlines the necessity of the Biden administration pushing for a ceasefire immediately. 
News: Thousands at risk as Israel raids al-Shifa
Analysis: Israeli forces continue to raid the al-Shifa hospital, where thousands of people including civilian patients, medical staff, and displaced Palestinians are stuck after the military encircled and bombarded the complex for days and prevented ambulances from entering or leaving. According to the head of al-Shifa's plastic surgery department, 43 out of the 63 intensive care patients have died thus far, with oxygen running out. The emergency department, specialized surgical department, and maternity ward have all been subject to the raid, with the Israeli military under intense pressure to produce evidence to back its claims that al-Shifa served as what an Israeli spokesperson called the "beating heart" of Hamas military operations. Human Rights Watch says Israel has yet to provide sufficient evidence to justify revoking al-Shifa's protected status as a hospital under international law. All the while, the Biden administration says it is "still confident" in its intelligence assessment of Hamas using al-Shifa as a "command and control node."
Suggested messaging:

Attacks on people  in a hospital will not bring justice for Hamas' heinous October 7 attacks. 

The Biden administration cannot have it both ways. – Saying that the president believes hospitals must be protected, while also backing the Israeli government's weakly supported claims that this hospital is a crucial Hamas command center.
News: The US public wants a ceasefire 
Analysis: More and more polls are revealing that a strong majority of people in the United States want a ceasefire in Gaza. One Reuters/Ipsos survey recently found that over two-thirds (68%) of Americans agree that "Israel should call a ceasefire and try to negotiate." An earlier Data For Progress poll found that the vast majority of Democrats (80%) more than half of independents (57%) and Republicans (56%) support a ceasefire in Gaza. Not only does this support extend across party lines, but it also does across various demographics, especially key supporters of the Democratic party's base: 70% of voters under 45 support a ceasefire, 72% of Black voters correspondents, and 71% of Latinx voters.
Suggested Messaging: 
Not only is a ceasefire the right thing to do, but it is politically popular and transcends party and demographic lines. 

The Biden administration needs to listen to what Americans really want: peace.
Humanitarian situation: Tracking the human cost of the Israeli military campaign in Gaza
Further Win Without War resources
###
Wednesday, November 15, 2023
Key updates and messaging
News: Thousands dying during "diplomatic window"
Analysis: Israeli Foreign Minister Eli Cohen told reporters that the Israeli government has a "diplomatic window" of some two or three weeks before international pressure for a ceasefire in the Gaza Strip increases. Cohen's statements make clear that the Israeli government is responsive to international pressure, and that Israeli leaders understand that their destructive campaign in Gaza is not acceptable to the international community. But the Israeli offensive has already killed over 11,000 Gazans, and the death toll rises every day – the costs of a multi-week "diplomatic window" are still unacceptably high.
Suggested messaging: 
The Biden administration should act to close the "diplomatic window" by advocating for a ceasefire in Gaza..
Cohen's comments make clear that international pressure matters – now is the time to keep the pressure up in order to save lives.
News: US arms transfers to Israel increasing
Analysis: The Defense Department is in the process of delivering 155mm artillery shells, missiles for use on Apache attack helicopters, "bunker buster" munitions, and other military equipment to Israeli forces, according to a new report. Some weapons, such as 1,800 shoulder-fired rockets designed to destroy concrete structures, have already been delivered, while others, including some 57,000 155mm shells, are en route. Win Without War and 32 other civil society organizations have strongly urged the Biden administration to refrain from supplying the Israeli military with 155-mm artillery munitions. In their letter, the groups argued that, "Under the current circumstances, granting the government of Israel access to these munitions would undermine the protection of civilians, respect for international humanitarian law [IHL], and the credibility of the Biden administration." Notably, these unguided high explosive rounds, with a casualty radius of between 100 and 300 meters, have previously been used by Israeli forces in Gaza operations, resulting in widespread civilian death and injury.
Suggested Messaging:
The Biden administration should immediately halt the transfer of 155mm artillery rounds to the Israeli military, and if it does not, Congress should pass a law prohibiting the transfer.
The administration must stick to its revised Conventional Arms Transfer (CAT) policy, which rules out transfers where serious international humanitarian law violations are "more likely than not."
News: "Inside a circle of death" 
Analysis: Israeli forces have raided al-Shifa Hospital, the largest medical facility in the Gaza Strip. According to a surgeon there, during the raid, 650 patients,700 medical staff, and thousands of displaced people were present on the hospital grounds. For days, intense fighting between Hamas and Israeli forces has prevented ambulances from entering or leaving. The Israeli government claims Hamas uses hospitals like al-Shifa as covers for its fighters, accusations Human Rights Watch has not corroborated. In the midst of this horrific scene, as well as fuel shortages and power outages resulting in al-Shifa's closure, dozens of patients have died — including newborn babies. Al-Quds, Gaza's second-largest hospital, also halted operations due to fuel and power shortages, with firefights unfolding outside the facility.
Suggested Messaging:
There is neither justice nor security to be found in an operation that kills babies in a NICU – the al-Shifa raid is instead a perfect example of the kind of violence that can only breed more violence.
The only way that al-Shifa and other hospitals can be "protected," as President Biden has demanded they must be, is by ending the Israeli government's offensive in Gaza.
News: Potential Truce? 
Analysis: Reports continue to emerge of ongoing negotiations between Hamas and the Israeli government, through Qatari intermediaries, centered on the return of some hostages being held in Gaza for a temporary halt to fighting. The latest report, from today, cites officials familiar with the talks saying that there is a deal on the table for 50 hostages to be released in exchange for a three-day truce, the release of some Palestinian prisoners held in Israel, and an increase in humanitarian aid to Gaza. Hamas has reportedly agreed to the deal in principle, but the Israeli government is still negotiating. The deal would also require Hamas to produce a list of all the remaining hostages, a crucial step in long-term efforts to secure their release. Hamas claimed today, through a video, that Israeli forces' bombardment of Gaza has already killed one hostage.
Suggested Messaging:
Any move to release hostages and stop the violence is a welcome step forward.
Bombardment from Israeli forces endangers both Gazans and the hostages, and a ceasefire is the only way to keep hostages safe while fruitful negotiations for their release continue.
Humanitarian situation: Tracking the human cost of the Israeli military campaign in Gaza
Further Win Without War resources
###
Thursday, November 9, 2023
Key updates and messaging
News: Israeli government agrees to daily humanitarian pauses
Analysis: The White House announced today that the Israeli government has agreed to "put in place four-hour daily humanitarian pauses in its assault on Hamas in northern Gaza starting on Thursday." The pauses are far shorter than the pause of at least three days that President Biden had been pressing for, but they constitute a major shift in the Israeli government's war policy. Pauses should allow for increases in deliveries of humanitarian supplies to Gaza. U.S. officials told reporters that it hopes to see 150 aid trucks crossing the Gaza border daily, which would be an improvement on current aid delivery (106 trucks entered Gaza on November 8), but still not nearly enough to meet humanitarian needs in Gaza. Before October 7, the UN reports, around 500 trucks crossed into Gaza each working day. Any pause in the violence is a step in the right direction, and it's key to continue to monitor the situation to ensure these pauses are in fact being enacted. Especially given some reporting that indicates the Biden Administration's characterization may have been overly optimistic.
Suggested messaging:
The pauses and any moves that safeguard lives are welcome, but a ceasefire is still a necessity.
The Biden administration's success in changing Israeli policy shows how effective U.S. pressure could be in pushing for a ceasefire.
Growing congressional calls for ceasefire, humanitarian pauses, and de-escalation are clearly having an effect – Biden and Netanyahu are responding to the political momentum for ending the horror people in Gaza are enduring.
News: Netanyahu wants to occupy Gaza
Analysis: In an interview with ABC News, Israeli Prime Minister Benjamin Netanyahu said that, after the war, Israel could stay in Gaza "for an indefinite period" with "overall security responsibility" since "we've seen what happens when we don't have it." In response, White House national security spokesperson John Kirby warned that the Biden administration believes "reoccupation [of Gaza] by Israeli forces is not the right thing to do." Secretary of State Antony Blinken also refuted Netanyahu's plan, arguing it is "clear that Israel cannot occupy Gaza." Israel previously occupied Gaza from 1967 to 2005.
Suggested messaging:
This is just more evidence that the Israeli government has no realistic endgame in Gaza, and is blundering into a dangerous occupation not unlike the U.S. experience in the Iraq War.
Indefinite collective punishment of civilians in Gaza is absolutely unacceptable, and an Israeli government re-occupation of Gaza offers no guarantees that civilians will be safe under Israeli rule and that the 1.5 million displaced will have a right to return to their homes when the war is over.
The Israeli government occupying  the Gaza Strip will almost certainly lead to further violence and instability.
News: Israeli government's misuse of history.
Analysis: Some Israeli officials are attempting to legitimize their military campaign with horrific death toll in Gaza by drawing similarities to U.S. military actions in places like Fallujah and Hiroshima. Both comparisons should stir real alarm among policymakers. Battles in Fallujah took place as part of a disastrous U.S. war of choice in Iraq and helped strengthen Iraqi opposition to U.S. military presence. As for Hiroshima – the international community has built up an entire diplomatic architecture to ensure that such a strike, due to its devastating human toll, never happens again. Though Israeli authorities argue they are trying to limit civilian casualties, Israeli military action has already killed more than 10,000 people, almost half of them children. The war is already a moral, strategic, and humanitarian disaster – the only metric by which Israeli officials' historical comparisons make sense.
Suggested Messaging:
Israeli officials citing some of the worst foreign policy decisions in U.S. history as positive inspiration for their war in Gaza is a strong indication that the U.S. should be calling for a ceasefire.
Past war crimes do not justify war crimes today.
The reliance of Israeli officials on such comparisons to validate collective punishment of Gaza civilians underscores the inherent injustice of the Israeli government's policy.
News: 24 Members and Counting…
Analysis: Congressional opposition to Israeli government operations in Gaza, and the resulting massive civilian harm, is growing. 24 members of Congress in the House and Senate have called for a ceasefire, either by joining the Bush-Tlaib resolution or through separate statements. They're buttressed by an increasing number of members who are throwing up bright red flags over the course that the Israeli government's response to Hamas' brutal October 7 attacks has taken. 26 Senators – a majority of Senate Democrats – wrote to President Biden on November 8 to ask for assessments of the Israeli military strategy in Gaza, specific mechanisms for upholding international law, and the humanitarian response. The letter further noted that administration responses would shape their approach to the $14 billion supplemental for Israel and Gaza that President Biden has requested.
Suggested Messaging:
We commend members of Congress who have called for a ceasefire and strongly urge all others to join them.
Other members are asking needed questions over the Israeli government's lack of strategy and what violations the U.S. will be complicit in – when the administration can't answer them, members must escalate their concerns to calls to end the violence now.
Humanitarian situation: Tracking the human cost of the Israeli military campaign in Gaza
Further Win Without War resources
###
Tuesday, November 7, 2023
Key updates and messaging
News: U.S. Officials Fear American Guns Ordered by Israel Could Fuel West Bank Violence
Analysis: The State Department is on the verge of approving the sale of roughly $34 million in semiautomatic and automatic rifles to the Israeli government, prompting fears that the weapons could be used to further ongoing anti-Arab violence in Israel and the West Bank. The Israeli government has reportedly provided assurances that the rifles will only be distributed to police and "civilian initial response units" overseen by police within Israel proper, rather than to similar civilian militias in the West Bank. But these private assurances are unsatisfactory when the weapons are headed to units that ultimately report to far-right Israeli Minister of National Security Itamar Ben-Gvir, who has personally promised to arm settlers and has a long history of inciting violence against Arabs.  It is all too easy to pass firearms around, and Ben-Gvir cannot be trusted not to pass them to violent anti-Arab zealots in Israel or the West Bank. Unless the State Department can announce a robust and verifiable end-use monitoring mechanism for these firearms, there is simply no guarantee that they won't be used to further devastate Palestinian communities in the West Bank in the coming months.
Suggested messaging:
Any proposed arms sale to the Israeli police should be evaluated not on the strength of private assurances from the Israeli government but on the unacceptable risk likelihood that the weapons will be used by Ben-Gvir to intimidate and persecute Palestinians in the West Bank and/or Palestinian Arab citizens of Israel.
As the co-director of the Israeli grassroots organization NGO Standing Together pointed out, this transfer is also dangerous for Palestinian Arab citizens of Israel currently subjected to right-wing attacks and intimidation.
News: Foreign Nationals Evacuating the Gaza Strip 
Analysis: Close to 1,200 people have left Gaza through the Rafah Crossing into Egypt since last Wednesday, under an agreement between the United States, Egypt, Israel, and Qatar, with the most recent evacuation occurring today. The majority of those evacuated were dual nationals and individuals with injuries, although some countries including Ireland and Brazil alleged that their nationals have not been permitted to leave. Brazil's ruling Workers Party contended that the Israeli government is playing favorites when determining which countries' nationals are allowed to leave.
Suggested messaging:
We are pleased to hear about the successful evacuations via the Rafah Crossing and urge authorities to maintain the necessary conditions for ongoing evacuations.
The Biden administration should urge the Israeli government to ensure all foreign and dual nationals, in addition to injured individuals, have unrestricted access to evacuations. No individual should be denied evacuation based on their government's actions.
News: 10,000+ People Dead, "A Graveyard for Children"
Analysis: Nearly one month since the October 7 Hamas attacks against Israeli civilians, a grim milestone has been reached in Gaza: more than 10,000 people were killed by the Israeli military's response. Of those killed, 4,104 are Palestinian children, a toll so horrific that UN Secretary-General Antonio Guterres has described Gaza as "a graveyard for children." The UN has reported that more than 88 of its workers have been killed in Gaza so far, in what is the "highest number of United Nations fatalities ever recorded in a single conflict." This all comes as the Israeli military continues to strike in the close vicinity of hospitals and roughly 1.5 million people have been forced to flee or have lost their homes because of the fighting.
Suggested messaging:
We continue to emphatically call for a ceasefire and to condemn this collective punishment against civilians, particularly the indiscriminate attacks against thousands of children who had no involvement in the conflict, nor Hamas' decisions, whatsoever.
This devastating milestone of more than 10,000 deaths underscores the urgent need for the Biden administration to push for a ceasefire immediately.
Humanitarian situation: Tracking the human cost of the Israeli military campaign in Gaza
Further Win Without War resources
###
Friday, November 3, 2023
Key updates and messaging
News: Keep 155mm shells out of Gaza
Analysis: The Pentagon has confirmed that it intends to provide the Israeli military with tens of thousands of 155mm artillery shells that had been designated to go to Ukraine. These shells – unguided high explosive rounds with a casualty radius of between 100 and 300 meters – are meant for use in conflicts like the Ukraine war, where artillery and armor play a major role, not for use in highly-populated urban areas. As Oxfam writes in a new report, "there are no known scenarios in which 155mm artillery shells could be used in Israel's ground operation in Gaza in compliance with international humanitarian law." As Oxfam shows, Israeli forces have used 155mm shells in past operations in Gaza in 2014, 2009, and 2005-7, resulting in huge numbers of civilian deaths and injuries.
Suggested messaging:
The Biden administration should prevent the transfer of these munitions to the IDF before they are again used to indiscriminately kill civilians, and if it won't, Congress should pass a law prohibiting the transfer.
The administration must stick to its revised Conventional Arms Transfer (CAT) policy, which rules out transfers where serious IHL violations are "more likely than not".
News: Dissent within the Biden administration  
Analysis: Senior administration officials are increasingly alarmed by how the Israeli government is conducting its military operations in Gaza, as well as the reputational repercussions of the Biden administration's support for a collective punishment strategy that clearly violates international law. Many worry that the U.S. will be blamed for the Israeli military's indiscriminate attacks on civilians, particularly women and children. Yet dissenting voices appear to be largely excluded from decision-making. One State Department official divulged, "It feels like we are advocates on the outside or civil society banging on the doors of government and that's not our role."
Suggested Messaging:
We applaud those in government who advocate for de-escalation, and who articulate the moral and strategic case for a ceasefire.
The policy process is meant to be a robust, expert-driven discussion, and the Biden administration should heed dissenting voices rather than trying to shunt them aside.
News: Hezbollah not at full-scale war, for now
Analysis: In his long-anticipated speech today, Hezbollah chief Hassan Nasrallah did not declare a full-scale war against Israel. However, he did threaten that "all scenarios are open on our Lebanese southern front," where tit-for-tat attacks have increased in recent weeks, and that a broader war "is a possibility." Military escalation will depend on how the violence in Gaza and the Lebanese-Israeli border violence continues to unfold. Increased border fighting, and the documented use of white phosphorus in Israeli strikes into Lebanon, could still lead to larger-scale violence between Hezbollah and Israel.
Suggested Messaging:
Though we are cautiously relieved that Hezbollah did not articulate a military escalation, the situation could change at any moment.
The safest and surest path to prevent a regional war — a very real and frightening possibility — is through a ceasefire in the Gaza Strip, followed by an intentional de-escalation of the violence in Gaza and at the Lebanese-Israeli border.
Humanitarian situation
Further Win Without War resources
###
Tuesday, October 31, 2023
Key updates and messaging
News: "Children were carrying other injured children"
Analysis: Yesterday, an Israeli military strike on Jabalia refugee camp in Gaza killed and injured dozens of civilians. An Israeli official confirmed responsibility, stating that they were targeting a senior Hamas commander and seeming to argue that innocent civilians had had the opportunity to move south (where Israeli airstrikes are still occurring).
Suggested messaging:
The killing of dozens of innocent civilians in the Jabalia refugee camp is horrific and disproportionate.
This is yet another example of why the Biden Administration needs to push for a ceasefire immediately.
News: Gaza is facing a humanitarian catastrophe
Analysis: Palestinians in Gaza are in critical need of the bare essentials of survival. The Israeli government has alternated between shutting off and tightly controlling people's access to food, water, medicine, and electricity. This siege likely violates international law and guarantees a massive humanitarian crisis. Efforts – mostly private – by the White House, and public calls by members of Congress, have helped open the way to some food, medicine, and fuel being allowed into Gaza, but it's not nearly enough to support the millions trapped within the strip.
Suggested messaging:
We are alarmed at the escalating humanitarian crisis in Gaza – the head of UNOCHA has stated that the "scale of the horror" is "really hard to convey," and the head of UNRWA has stated "An immediate humanitarian ceasefire has become a matter of life and death for millions."
U.S. law prohibits assistance to governments that prevent or restrict, "directly or indirectly," the delivery of U.S. humanitarian aid – the Biden administration must apply the law if the Israeli government does not end its siege.
News: Nasrallah to finally speak
Analysis: Hezbollah leader Hassan Nasrallah will give a speech on Friday, during which he is widely expected to clarify his organization's response to Israel's actions in Gaza. Nasrallah's decision could determine how widely the conflict will spread. To this point, Hezbollah has continued to target people in Israel with shelling as well as small-scale attacks post October 7 at the Israel-Lebanon border. But the beginning of Israel's ground invasion of Gaza may change Nasrallah's calculus. If Hezbollah backs Hamas with a major offensive, the consequences for people living in Israel, Lebanon, and potentially throughout the region could be catastrophic.
Suggested messaging:
A ceasefire and de-escalation in Gaza would reduce the possibility of a new Israel-Hezbollah war, shutting down one of the most dangerous escalation paths that this conflict could take.
Humanitarian situation
Further Win Without War resources