More than 35 National Security and Constitutional Experts Urge Senate Leadership to Support S.J.Res 54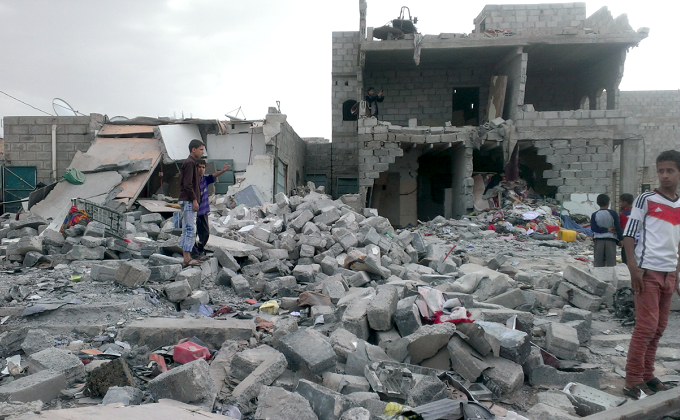 ---
Last Updated on February 2, 2021.
More than 35 foreign policy, national security, and constitutional experts from across the ideological spectrum have sent a letter to Senate Majority Leader Mitch McConnell and Minority Leader Chuck Schumer, urging their support for the bipartisan Sanders-Lee-Murphy war powers resolution on Yemen (S.J.Res 54.)
The letter asserts that S.J.Res 54 "defends the constitutional linchpin of Congress's sole authority to declare war and promises to help end what aid groups consider the worst humanitarian crisis in the world."
Its signatories include Stephen Seche, former U.S. Ambassador to Yemen under Presidents George W. Bush and Barack Obama, Philippe Nassif, Executive Director of In Defense of Christians in the Middle East, and eminent constitutional law scholar, Bruce Ackerman.
Read the full letter and list of signatories below.
###
March 8, 2018
Dear Majority Leader McConnell and Minority Leader Schumer:
We, the undersigned, strongly urge you to support S.J.Res 54, introduced by Senators Sanders, Lee, and Murphy. The joint resolution, which invokes the War Powers Resolution of 1973, triggers a debate and vote on terminating the involvement of United States Armed Forces in Saudi Arabia-led hostilities in Yemen, which are not authorized by either a Congressional declaration of war or a specific statutory authorization. Since March 2015, U.S. Armed Forces have been engaged in hostilities alongside the Saudi- and United Arab Emirates-led coalition of regional militaries fighting the Houthi rebels of Yemen by providing logistical and targeting assistance and midair refueling services for coalition warplanes conducting aerial bombings.
The joint resolution reaffirms that Article I, section 8, clause 11 of the Constitution entrusts the exclusive power to declare war to Congress, not the President. Furthermore, as section 2(c) of the War Powers Resolution of 1973 affirms:
The constitutional powers of the President as Commander-in-Chief to introduce United States Armed Forces into hostilities, or into situations where imminent involvement in hostilities is clearly indicated by the circumstances, are exercised only pursuant to (1) a declaration of war, (2) specific statutory authorization, or (3) a national emergency created by attack upon the United States, its territories or possessions, or its armed forces.
The War Powers Resolution of 1973 defines the "introduction of United States Armed Forces into hostilities" to include "the assignment of members of such armed forces to command, coordinate, participate in the movement of, or accompany the regular or irregular military forces of any foreign country or government when such military forces are engaged, or there exists an imminent threat that such forces will become engaged, in hostilities."
Foreign Policy reported that in Yemen, the Saudi coalition's "daily bombing campaign would not be possible without the constant presence of U.S. Air Force tanker planes refueling coalition jets" conducting airstrikes. U.S. refueling thus clearly constitutes accompanying and participating in the movement of Saudi-led forces engaged in hostilities. The Wall Street Journal presented evidence of U.S. coordination for Saudi-led hostilities as well: "American military planners are using live intelligence feeds from surveillance flights over Yemen to help Saudi Arabia decide what and where to bomb, U.S. officials said."
S.J.Res 54 directs the removal of U.S. forces from such unauthorized hostilities within 30 days unless and until a declaration of war or a specific statutory authorization is enacted. As such, the resolution is purely procedural and constitutional in scope: it does not prevent the President or members of Congress from pursuing and obtaining either of the two legal requirements needed to engage U.S. forces in hostilities alongside Saudi Arabia and against the Houthis.
Any public debate to declare war or authorize U.S. force against Yemen's Houthis should account for the fact that the Saudi-led conflict has put a staggering 8.4 million Yemenis "a step away from famine," according to the United Nations. This war "has created the worst humanitarian crisis in the world," in the estimation of the World Health Organization, World Food Programme, and UNICEF, which are struggling to provide aid in a country where 75 percent of the population is now in need of humanitarian assistance.
Further, a July 2017 finding in the State Department's "Country Reports on Terrorism 2016" observed that the war has "continued the security vacuum that has enabled al‑Qaeda in the Arabian Peninsula (AQAP) and ISIS's Yemen branch to deepen their inroads across much of the country." In December 2017, Lora Shiao, acting director of intelligence for the National Counterterrorism Center, similarly noted in Senate testimony that AQAP "continues to exploit the conflict in Yemen to gain new recruits and secure areas of safe haven, contributing to its enduring threat." News agencies such as the Associated Press have referred to AQAP as a "de facto ally" of Saudi Arabia and its coalition in their shared battle against the Houthis.
In early December 2017, President Trump demanded that the Saudi regime end its blockade on imports into Yemen and "completely allow food, fuel, water, and medicine to reach the Yemeni people who desperately need it," which "must be done for humanitarian reasons immediately." The White House further urged "all parties to immediately cease hostilities" in Yemen. Yet the Saudi-led coalition did not comply, launching "intensified airstrikes" that led to a "surge in civilian casualties," according to the UN High Commissioner for Human Rights and UN Humanitarian Coordinator for Yemen. Moreover, on January 22, 2018, aid group Save the Children warned against "a misconception that the Saudi-led coalition has lifted its blockade," noting that "fuel is still being blocked, leading to crippling shortages across the country and unsustainable rises in the price of basic goods."
We note with interest that the Trump administration reportedly cited Congressional pressure to Saudi officials as a potential constraint on U.S. assistance as it pushed Riyadh to allow greater access of humanitarian aid into Yemen in late 2017. Thus, the Saudi monarchy's refusal to comply with U.S. demands to completely and immediately end its blockade, a form of collective punishment against Yemen's civilian population, as well as its continuation of indiscriminate airstrikes—which have destroyed civilian infrastructure such as sewage facilities, bridges, ports, and hospitals—certainly merit immediate Congressional action.
A recent Congressional initiative launched by Representatives Khanna (D-CA), Massie (R-KY), Pocan (D-WI), and Jones (R-NC) ultimately led to a nonbinding House resolution that passed overwhelmingly, affirming the unauthorized nature of U.S. military involvement in Yemen's conflict and expressing the urgent need for a political solution. In offering our support for S.J.Res 54, we wish to highlight the assessment of Khanna, Jones, and Pocan:
Nowhere else on earth today is there a catastrophe that is so profound and affects so many lives, yet could be so easy to resolve: halt the bombing, end the blockade, and let food and medicine into Yemen so that millions may live. We believe that the American people, if presented with the facts of this conflict, will oppose the use of their tax dollars to bomb and starve civilians.
We strongly encourage you and your Senate colleagues to cosponsor and vote for S.J.Res 54, which defends the constitutional linchpin of Congress's sole authority to declare war and promises to help end what aid groups consider the worst humanitarian crisis in the world.
Sincerely,
[Affiliations for identification purposes only]
Bruce Ackerman
Sterling Professor of Law and Political Science, Yale University
Lt. Col. Daniel L. Davis, USA (ret.)
Jody Williams
Nobel Peace Laureate (USA, 1997)
Amb. (ret.) Stephen Seche
United States Ambassador to Yemen (2007-2010)
Philippe Nassif
Executive Director, In Defense of
John J. Mearsheimer
Wendell Harrison Distinguished Service Professor of Political Science, University of Chicago
Col. Lawrence Wilkerson (ret.)
Distinguished Visiting Professor of Government at the College of William and Mary,
Chief of Staff to Secretary of State Colin Powell
Bruce Fein
Associate Deputy Attorney General to President Ronald Reagan, 1981-1982
Lawrence Lessig
Roy L. Furman Professor of Law and Leadership, Harvard University
Barry R. Posen
Ford International Professor of Political Science, MIT
Shireen Al-Adeimi
Doctoral Candidate, Harvard University
Andrew J. Bacevich
Professor Emeritus of International Relations and History, Boston University
Tawakkol Karman
Nobel Peace Laureate (Yemen, 2011)
Kristen Breitweiser
9/11 Widow and Activist September 11th Advocates
Michelle Dixon
Director, Global Progressive Hub
Monica Gabrielle
9/11 Widow and Activist September 11th Advocates
Sama'a Al-Hamdani
Yemen Analyst and Media Commentator
The Yemen Cultural Institute for Heritage and the Arts
Hon. Mickey Edwards
Member of Congress (R-OK), 1977-1993
Aspen Institute
Peter Beinart
Contributing Editor, The Atlantic; Senior Columnist, The Forward
Associate Professor, City University of New York
Daniel Larison Senior Editor, The American Conservative
Noam Chomsky
Institute Professor (Emeritus), MIT; Laureate Professor, University of Arizona
Norman Singleton
President, Campaign for Liberty
Jason Pye
Vice President of Legislative Affairs for FreedomWorks
Paul R. Pillar
Former National Intelligence Officer for the Near East and South Asia
Georgetown University
Michael C. Desch
Professor of Political Science and Director of the Notre Dame International Security Center, University of Notre Dame
Eugene Gholz
Associate Professor of Political Science, University of Notre Dame
Monica Duffy Toft
Professor of International Politics, The Fletcher School of Law and Diplomacy, Tufts University
Michael J. Glennon
Professor of International Law, The Fletcher School of Law and Diplomacy, Tufts University
Christopher Layne
University Distinguished Professor of International Affairs, Texas A&M University
Joseph Parent
Associate Professor of Political Science, University of Notre Dame
Rajan Menon
Anne and Bernard Spitzer Professor of International Relations, City College/City University of New York
Juan Cole
Richard P. Mitchell Collegiate Professor of History, University of Michigan
Nader Hashemi
Director, Center for Middle East Studies, University of Denver
Danny Postel
Assistant Director, Middle East and North African Studies Program, Northwestern University
Alberto Mora, Senior Fellow
Carr Center for Human Rights Policy, Harvard Kennedy School
Dan Mahanty
Former Director, Office of Security and Human Rights, State Department
Adjunct Associate Professor, Center for Security Studies, Georgetown University
Stephen Miles
Director, Win Without War
March 9, 2018