Talking Points: Mike Pompeo's Nomination for Secretary of State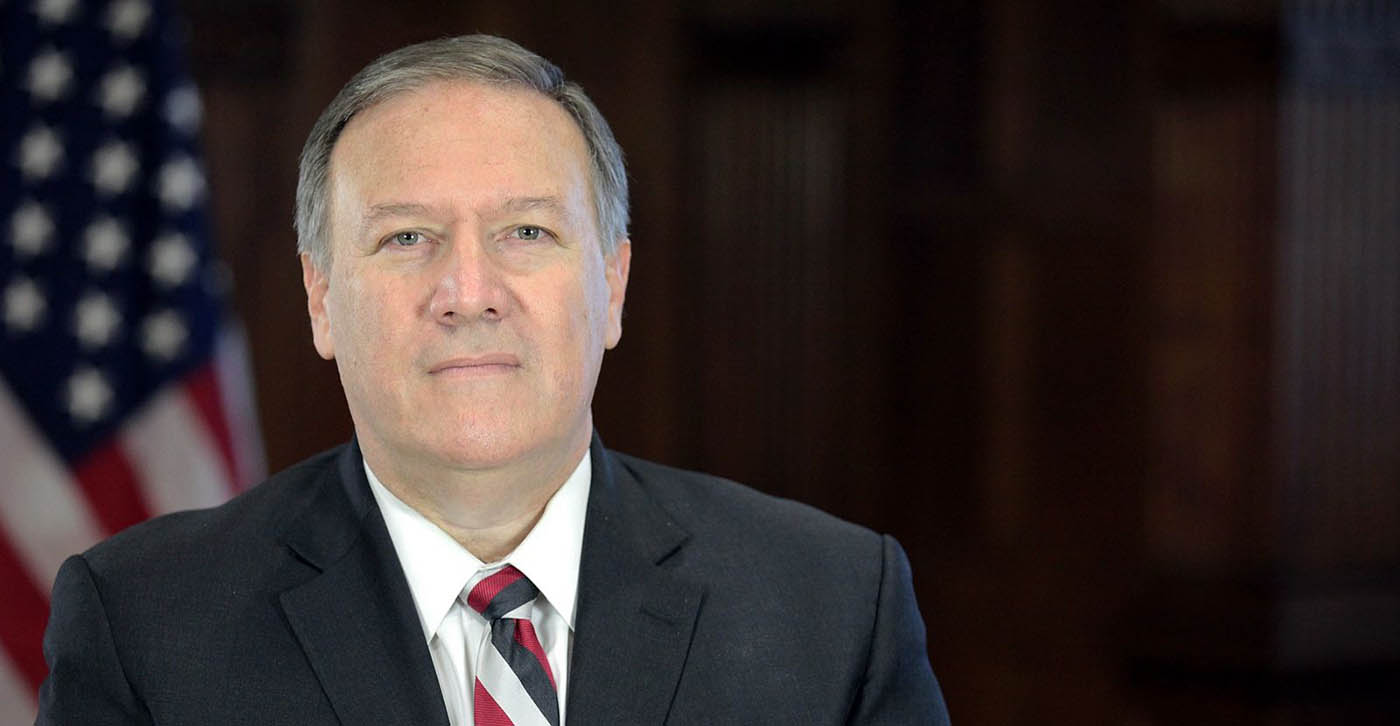 ---
Last Updated on January 11, 2021.
TOPLINE: Mike Pompeo is simply unfit to serve as Secretary of State. The Senate must
reject his nomination. Pompeo is hostile to the very notion of diplomacy and would not curtail President Trump's
instincts to put the United States on a path to war.
Pompeo has signaled support for regime change in North Korea, and has indicated that a first strike on North Korea would be a viable option to present to the president.
Pompeo has a long record of advocating for military intervention against Iran, and his hostility toward the Iran nuclear deal and advocacy against it has helped put the U.S. and Iran back on a path to war.

Pompeo promised during his CIA Director confirmation hearing that he would provide "straight information" on the Iran deal. Though the intelligence community has concluded that the JCPOA has extended Iran's nuclear breakout time to a year and enhanced transparency into Iran's program, Pompeo has counseled President Trump to declare that the agreement is not in the U.S. interest.

As a member of Congress and CIA Director, Pompeo has championed America's global war-making in countries like Afghanistan, Somalia, Libya, and its unauthorized war in Yemen. With John Bolton on board, the Senate must incapacitate Trump's War Cabinet by voting to block Mike Pompeo.
It is clear that President Trump, someone who ran for office claiming to oppose the disastrous war in Iraq is now assembling a war cabinet to replay that horror show many times over. It would be a national folly to put champions of America's endless wars and advocates for new wars in charge of U.S. foreign policy.
By refusing to confirm Pompeo as Secretary of State, senators can exercise their oversight role and send a clear message that they will not stand idly by while the president and his cabinet seek to drag the U.S. into continued, endless wars of choice. There is no reason to believe that Pompeo will be the State Department's savior.
Pompeo's tenure at the CIA indicates that he will not seek to champion diplomacy as Secretary of State, but instead "form the job" to his preferences, likely by militarizing the Department.

At the CIA, Pompeo politicized the Agency, weaponized intelligence, and colluded with ideologically driven organizations to misrepresent basic facts, despite promises during his confirmation hearing not to do so.

Pompeo's clear preference for war over diplomacy, disdain for human rights, and record of working to undermine and dismantle critical U.S. development and humanitarian priorities make it unlikely he will seek to create and advocate for non-military solutions to the challenges we face.
Pompeo's indefensible record on issues like reproductive rights, environmental protection, and refugee resettlement indicate he will sideline these priorities and further disembowel the Department's ability to play a leading role in positively addressing these challenges. Pompeo's record of extreme anti-Muslim and anti-LGBTQ+ views are an affront to the values and respect for human rights expected of the United States' chief diplomat.
Pompeo erroneously frames counterterrorism as a clash of civilizations between Christianity and Islam, has called U.S. Muslim leaders "potentially complicit" in terrorism and has been championed by extreme anti-Muslim groups.
Pompeo also has a record of allying with anti-LGBTQ+ hate groups and supports discrimination against LGBTQ+ people, and as a member of Congress, continually opposed repealing "Don't Ask, Don't Tell."
Pompeo's history of demonizing marginalized populations at home and abroad raises serious questions about his willingness to advance a diplomatic agenda that protects and defends the rights of all people, regardless of nationality, race, gender, ethnicity, economic status, religion, migration status, sexual orientation, or any other status.. Pompeo is a climate change denier who would advance a global anti-climate agenda.
Pompeo is an unequivocal climate denier, has deep ties to the anti-climate oil and gas industry, and opposes the Paris climate accord. His positions pose a fundamental threat to our planet.
Pompeo's record on climate indicates he has no interest in offering the strong global leadership needed to address the challenges posed by scarce resources, population displacement, and conflict that climate change is already driving. Pompeo's disregard for the rule of law as well as critical U.S. development and humanitarian priorities would jeopardize lives and further tarnish our standing in the world.
Pompeo's defense of torture, including waterboarding, and mistreatment of detainees at Guantanamo Bay is abhorrent and elevating him to Secretary of State will diminish U.S. moral standing, jeopardize U.S. troops, and offer repressive governments justification for their own brutality.
Pompeo has a record of working to undermine and dismantle U.S. development and humanitarian priorities that are critical to achieving our national interests. Pompeo at the State Department would be a vehicle to export Trumpism worldwide.
A vote to confirm Pompeo is a vote of approval for Trump's 14-month disastrous foreign policy, one that CIA Director Pompeo has influenced and actively supported to win influence with Trump.
By the president's own description, Donald Trump is choosing Pompeo for Secretary of State precisely because they "have a very similar thought process." The Secretary of State should act as a check on the more militarily-inclined parts of the national security apparatus, not as an anti-diplomacy, rubber stamp like Mike Pompeo.
February 28, 2019