MEMO: TRUMP'S TRANSGENDER MILITARY BAN IS UN-AMERICAN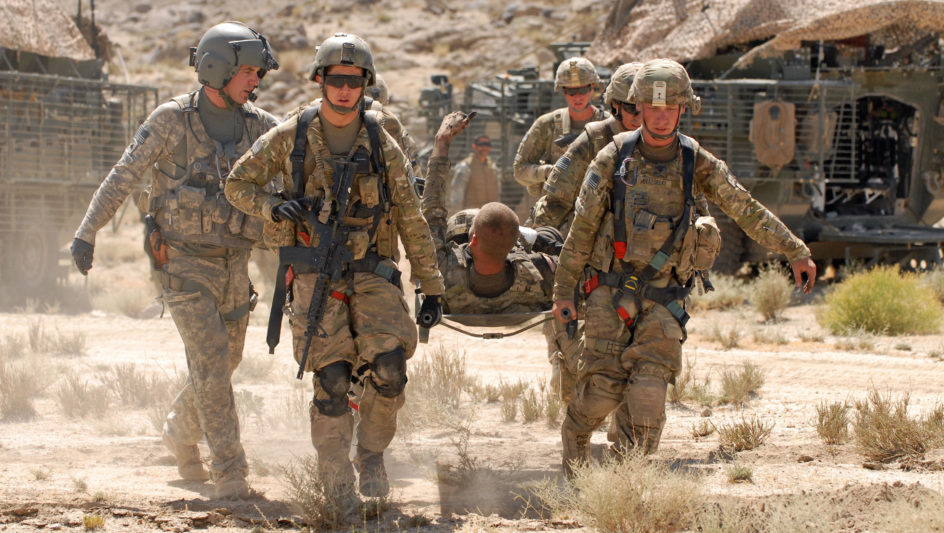 ---
Last Updated on January 11, 2021.
Trump's New Ban on Transgender People Serving in the Military Defies Common Sense and American Values
Donald Trump's announcement on Wednesday that he will reinstate the ban on transgender people from serving in the U.S. military "in any capacity" is an outrageous affront to all Americans, particularly the LGBT community, which Mr. Trump once promised to support.
Ironically, Trump's decision comes on the 69th anniversary of President Harry Truman's executive order desegregating the military, in which he declared "equal treatment and opportunity for all persons in the armed services." It also reverses an Obama administration directive that transgender people could serve openly in the military, and comes on the heels of a recent House vote this month rejecting a measure that would have barred transgender servicemembers from receiving genital reassignment therapies.
Trump's Inaccurate and Confusing Tweets
Trump claimed on Twitter that he arrived at his decision after "consultation with my Generals and military experts." But the Pentagon press office reportedly "didn't know anything about" Trump's decision (although Secretary Mattis was reportedly alerted).
What's more, just yesterday, former Joint Chiefs of Staff Chairman Admiral Mike Mullen (ret.) said that "thousands of transgender Americans are currently serving in uniform and there is no reason to single out these brave men and women… ." Former Defense Secretary Ash Carter said in a statement: "To choose service members on other grounds than military qualifications is social policy and as no place in our military. There are already transgender individuals who are serving capably and honorably." Carter added that Trump's action "would also send the wrong signal to a younger generation thinking about military service."
Trump's new policy also comes a full five months before the Pentagon said its review of allowing transgender Americans to enlist would be complete.
Trump's assertion that the U.S. military "cannot be burdened with the tremendous medical costs and disruption that transgender in the military would entail" is also not backed up by facts. A RAND study last year found that "the costs of gender transition-related healthcare treatment are relatively low." The study showed that transgender medical care would cost the military $2.4 – 8.4 million a year, which is a drop in the bucket, especially compared to the $28 million spent on uniforms for the Afghan army that aren't appropriate for Afghanistan.
Many Republicans Don't Support Trump's Ban
Even Republicans have come out against Trump's new policy. "The Department of Defense has already decided to allow currently-serving transgender individuals to stay in the military," Sen. John McCain (R-AZ) said, adding: "Any American who meets the current medical and readiness standards should be allowed to continue serving." Asked to respond to Trump's new policy, Sen. Richard Shelby (R-AL) said, "I think everybody should be able to serve," and Rep. Ileana Ros-Lehtinen (R-FL) said, "No American, no matter their sexual orientation or gender identity, should be prohibited from honor + privilege of serving our nation."
Sen. Joni Ernst (R-IA), herself a military veteran, said that "Americans who are qualified and can meet the standards to serve in the military should be afforded that opportunity."
Trump's Hypocrisy and Pence's Backchannel Lobbying
It's worth noting that Vice President Pence — who once said that women should not be allowed to serve in the military — and his staff have reportedly been "working quietly to get Congress to roll back the Defense Department's year-old policy covering medical procedures for transitioning service members."
Finally, Trump's decision to ban transgender Americans from serving in the military contradicts claims he made during his campaign for president that he's the biggest supporter of the LGBT community. "Ask yourself," he said one year ago. "Who is really the friend of women and the LGBT community? Donald Trump, with action, or Hillary Clinton, with her words? I will tell you who the better friend is."
Win Without War and Global Progressive Hub stand in solidarity with our men and women in uniform, and with the LGBT community in strongly opposing Trump's ban on transgender Americans serving openly. We ask that you speak out as well and condemn this ban.
July 26, 2017