Bird Without a Nest: Learning from Doves in DC
---
Last Updated on December 7, 2016.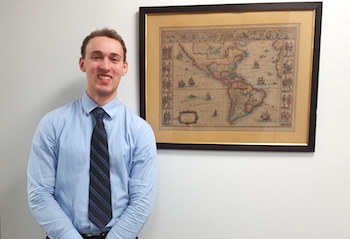 Austin Strain is a senior at the University of Colorado Boulder, majoring in Political Science. He is interested in domestic politics, international affairs with an emphasis in the Middle East and civil rights. In his free time, Austin enjoys lifting weights at the gym and maintaining a healthy diet, listening to new music and exploring DC monuments and activities with friends.

Here I am, wrapping up a semester-long internship with the Center for International Policy, weeks away from graduation and looking back on my unlikely path to today. The past several months have been a whirlwind, a rollercoaster of emotions, and an unforgettable experience. I'm a little nervous about the uncertain future, but if this past semester has been any indicator, I can rest assured that I'll be fine. For my own therapeutic reasons, and your viewing pleasure, I'd like to slow down and recall what life was like as a new intern in Washington DC.
I first found out about a program that my school, the University of Colorado Boulder, offered (called CU in DC) when I was looking for internship opportunities. Essentially, the program sends students to Washington DC, where they work at a full-time internship and take a couple classes on the side. I've never really considered myself a spontaneous or adventurous person, but I knew then that I had to take the leap of faith: I was heading to the nation's capital for my last semester.
Finding an internship was just like applying for a job; I sent dozens of applications to a variety of organizations over the course of summer. As time progressed, I waited to hear back, and about three weeks before I was scheduled to fly out to DC, I got my first reply and scheduled an interview. A few days after my interview, the Center for International Policy called me back to offer me a position. I honestly can't remember the last time I had been so excited; I was actually going to be working in Washington DC, for school credit, during an election season! Things seemed to be working out perfectly.
I arrived in DC by mid-August. This was the first time in my life that I would be living far from home. Boulder was about an hour from where I grew up; far enough to be independent, but close enough to easily go home. I would sum up my first couple weeks in DC with one word: shock. I didn't know anyone upon arriving, but it was also an opportunity for a fresh start. It was my first time living in a big city, even if it was just a "small-big" city. I loved the fast pace and high energy. Any fear of the unknown was immediately washed away, replaced with excitement. I was hooked.
DC has a reputation as a cold, Machiavellian environment; this isn't an entirely unfair description, but it's somewhat incomplete. Despite being a fairly conservative city in the sense that there are rigid social structures and a defined (if unwritten) order, there's also an eccentric side to DC. People are willing to fight for what they believe in, and are willing to engage in an open dialogue on a diverse array of issue, which was new to me.
Working in a professional office setting was just as big of an adjustment as moving into a new city. I had to get up early, figure out public transportation, and find the energy to stay motivated and working at a fast pace the entire day. I knew I would eventually settle in, but the first few days of work were pretty overwhelming.
The exciting part about working for an advocacy group is that you're always busy. There will always be problems in the world that need to be addressed. New problems arise, and you have to be ready to tackle the rising threats as they develop. My time at the Center for International Policy taught me that you can never rest too long, because there's almost always work to be done. I enjoyed every moment of researching issue topics, proofreading emails, compiling news reports, and even gathering data related to social media outreach. Even if the tasks became the same over time, the fluidity of global affairs always kept things interesting.
My workday generally started by reading through the latest news, and scanning for relevant stories, from the latest events in Congress to the conflicts in Iraq, Syria, Yemen, and Afghanistan. I then compiled the top stories and sent them to the rest of the team. From there, I worked on the latest projects.
One of my favorite projects came early in the internship. Bill Hartung (with the Arms & Security Project) had me research every weapons sale to Saudi Arabia during the Obama administration, and compile the total sales. The final results tallied 41 arms sales worth a combined $115 billion. This research proved instrumental in producing a report that garnered significant attention in the media. As I watched the report spread through the media, I not only got a sense of how quickly information spreads online; I also had the personal satisfaction of knowing my work was having an impact.
While my work with the Arms and Security Project was very interesting and time-intensive, my work primarily focused on the Win Without War team and their various advocacy projects. We began the year with a campaign opposing the sale of American tanks to Saudi Arabia. To help in the fight, I gathered information on the current war in Yemen and civilian casualties at the hands of the Saudi-led coalition. I also researched and gathered quotes from Senators about their position on the conflict in Yemen and opposition to the Saudi tank deal. Finally, I helped proofread action alerts that were sent to our activist network. Throughout the internship, I helped with many such emails, and enjoyed it just as much every time. I felt like a secret insider who got to see the emails before anyone else.
Working with the Win Without War team really opened my eyes to the variety of global issues. I only knew basic background on the Syrian civil war, and knew even less about the conflict in Yemen. Yet over the semester, it was almost like taking a foreign policy class again with how much I learned from my co-workers. And when I wasn't learning about specific issues, I was getting a better understanding of what it is like to work in a non-profit organization. In particular, learning the behind-the-scenes of sending email blasts opened my eyes to the wider world of marketing, something that will be helpful to whatever my future holds.
The decision to come to DC was relatively easy; what to do after I arrived was more of a challenge. One would think that working in a field involving constant crises would be discouraging; however, my time at the Center for International Policy gave me hope. The day-to-day projects—meaningful as they were—were only one part of what made my internship experience so special. My projects helped me better understand the incredible reach of just one small team and realize that the work interns do is not trivial – it is integral. But perhaps nothing was more meaningful than being a part of something bigger than myself. The important work being done—helping make America and the world more peaceful and sustainable— was changing lives, and I played a role, even if small, in helping make it possible. I can't believe the time has already come to say goodbye, but I know that I will reflect back on my experiences and remain hopeful and optimistic for the future.
December 7, 2016