Congress: Protect Rep. Ilhan Omar's Vital Position on House Foreign Affairs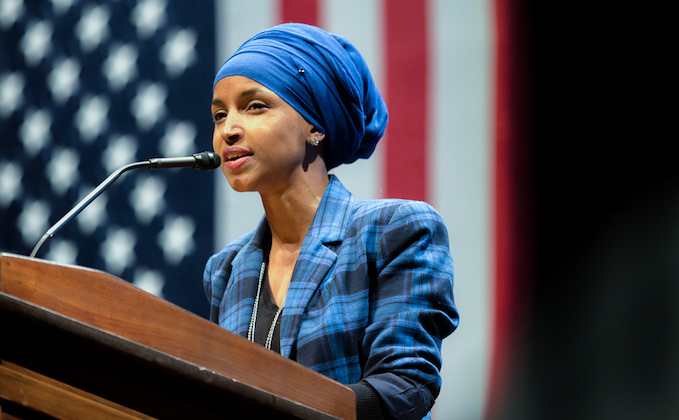 ---
Last Updated on March 10, 2023.
WASHINGTON – Win Without War Executive Director Sara Haghdoosti made the following statement after a Republican House leadership decision to advance a resolution removing Rep. Ilhan Omar (D-MN-5) from the House Foreign Affairs Committee:
"We're disgusted with House Republican leadership efforts to remove Representative Ilhan Omar from the House Foreign Affairs Committee (HFAC). This is a blatant attempt to strip HFAC of a progressive champion and skilled legislator who challenges the political status quo, uplifts the marginalized, and reshapes U.S. foreign policy to protect human rights and combat hate.  
"Rep. Omar has helped raise the bar for progressive foreign policy in Congress. She has steadfastly advocated for cuts to the Pentagon budget, held U.S. allies accountable for human rights abuses, and confronted the racism and Islamophobia present in U.S. foreign policy. 
"As someone who was impacted by the Muslim Ban and who grew up having to deal with the dehumanizing rhetoric of the 'war on terror,' I can say unequivocally that Rep. Omar is a critical voice in Congress. She's not just a role model for millions of young women in the United States and abroad — her leadership on legislation like the Combating International Islamophobia Act, to get the State Department to focus more intentionally on rising Islamophobia around the world and what the United States can do to combat it — is crucial. 
"The attacks against her are because of who she is and the fact that she dares to push for real change as a Black, Muslim, Somali-born refugee. This is plain, given that she introduced the Pathway to PEACE, a package of legislation to recenter human rights and justice in U.S. foreign policy. She has stood against authoritarianism in the United States and globally — introducing articles of impeachment against Donald Trump the day after January 6, 2021, and spearheading international solidarity efforts to reinforce Brazil's democracy as it comes under attack. More informally, this is clear in her steadfast commitment to accountability — brilliantly displayed in her holding Elliot Abrams to account in a way that was unprecedented in Congress. 
"Speaker McCarthy's targeting of Ilhan Omar is telling of just how threatened the Republican party is by Women of Color who are consistently pushing for change and dare demand not just a say but leadership in decisions that impact their lives.
"I unashamedly support Rep. Omar – and urge every member of the House to do so as well."   
###
Win Without War is a diverse network of activists and national organizations working for progressive foreign policy in the United States.
January 31, 2023