Letter to US Senators on the Upcoming Saudi Arms Deal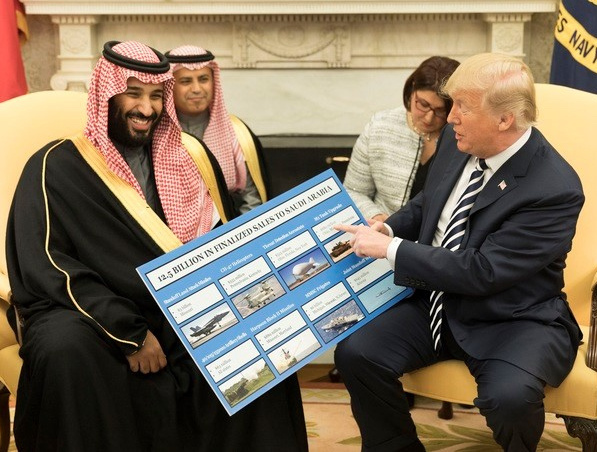 ---
Last Updated on February 2, 2021.
September 8, 2016
Dear Senator,
The undersigned organizations are writing on behalf of the millions of Americans we collectively represent, to urge you to reject the planned $1.15 billion foreign military sale to the Kingdom of Saudi Arabia. Moving forward with this sale at this time is not in the security interest of the United States and is in contrast to our nation's commitment to promoting human rights and accountability for alleged war crimes.
The Defense Security Cooperation Agency recently delivered a certification notifying Congress of the planned foreign military sale to Saudi Arabia composed of up to 153 tanks, hundreds of machine guns and other military gear. While the Department of State has approved this possible sale, Congress still has the authority to reject this dangerous sale.
A bipartisan group in Congress has already initiated efforts to halt this planned sale, and we strongly encourage you to join their efforts.
This planned sale is not happening in a vacuum, but in the midst of an ongoing Saudi intervention in Yemen that has resulted in numerous allegations of apparent war crimes and gross violations of human rights. Examples of such violations include, but are not limited to the following:
Armed with American-made F-15s and munitions, the Saudi-led military coalition killed 19 people, mostly children, in a residential area and a school on August 13, then 19 more in a strike on a Doctors Without Borders (MSF) hospital two days later.
In a 59-page report released by Human Rights Watch in July 2016, 17 unlawful airstrikes on 13 civilian economic sites are outlined, including strikes on factories, commercial warehouses, a farm, and two power facilities. These strikes killed 130 civilians and injured 171 more. These strikes on factories are contributing to the shortages of food, medicine, and other critical needs of Yemen's civilians.
In total, more than 3,000 civilians, including 700 children, have been killed and at least 2.4 million people have been displaced from their homes over the past year, according to Amnesty International.
Congress has an important role to play in overseeing foreign military sales and defending the United States' commitment to the safety and dignity of civilian life and human rights. We strongly urge you to use that authority to block the planned sale to Saudi Arabia. Moving forward with an arms sale to Saudi Arabia at this time, given its current actions in Yemen, would not only be irresponsible, it would be dangerous, further undermining America's credibility on the global stage and our commitment to defending human rights.
Sincerely,
Americans for Democracy & Human Rights in Bahrain (ADHRB)American Friends Service Committee (AFSC)
Center for International Policy
Church of the Brethren, Office of Public Witness
CODEPINK for Peace
Conference of Major Superiors of Men
Daily Kos
Darfur Women Action Group
Dominican Sisters & Associates of Peace
Friends Committee on National Legislation
Global Ministries of the Christian Church (Disciples of Christ) and United Church of Christ
Institute for Policy Studies, New Economy Maryland Project
Institute for Policy Studies, New Internationalism Project
Iraq Veterans Against the War
Just Foreign Policy
Knowdrones.com
Military Families Speak Out
MoveOn.org
Mwatana Organization for Human Rights
National Council of Churches
Nonviolence International
On Earth Peace
Pax Christi International
Peace Action
Peace Direct
People Demanding Action
Progressive Democrats of America
Project for Nuclear Awareness
Proposition One Campaign
RootsAction.org
September 11th Families for Peaceful Tomorrows
Stand Up For Yemen
STAND: The Student-Led Movement to End Mass Atrocities
The Hampton Institute: A Working Class Think Tank
The Yemen Peace Project
Unitarian Universalist Service Committee
United for Peace and Justice
United Methodist Church, General Board of Church and Society
US Labor Against the War
US Peace Council
Veterans For Peace
Win Without War
Women's Institute for Freedom of the Press
Women's International League for Peace and Freedom
World Beyond War
September 8, 2016