Progressives Support Rep. Omar Against Bad Faith Attacks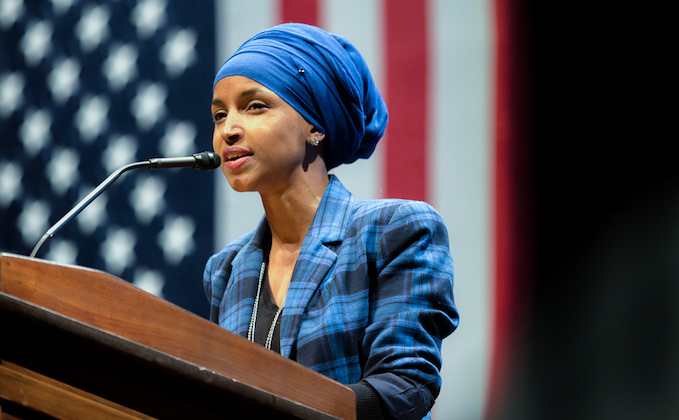 ---
Last Updated on July 8, 2021.
FOR IMMEDIATE RELEASE June 11, 2021
CONTACT Michael Galant, michael@winwithoutwar.org, +1 (203) 260-4654
WASHINGTON — 80+ national progressive organizations and leaders released the following statement regarding bad faith attacks against Rep. Ilhan Omar for comments earlier this week:
"Representative Ilhan Omar is facing a smear campaign for daring to name what few will: that all victims of war crimes deserve justice, regardless of who commits the crimes. As national progressive organizations and leaders devoted to upholding human rights everywhere and ensuring our democracy can flourish through freedom of speech, we support Rep. Omar and condemn these bad faith attacks.
"For too long, the United States and its allies have acted with impunity for the atrocities that they commit across the globe. Those who dare to violate Washington taboos and name this simple fact should be commended for their bravery. Instead, they are censored.
"Make no mistake: these attacks and intentional twisting of her words are designed not only to silence criticism of U.S. foreign policy, but to silence an outspoken woman of color. That this latest round of vilification is once again about Rep. Omar in particular is not a coincidence: the repeated targeting of Rep. Omar is rooted in sexism, racism, and anti-Muslim bigotry.
"It is no surprise that Rep. Omar's opponents would seize on any opportunity to once again attack one of Congress's leading progressive voices. The true shame is that many in her own party would buy in to such bad faith attacks. 
"We join in solidarity with Rep. Omar and all who are willing to name the simple truth that the United States and its allies should be held accountable for their human rights violations. We urge all members of Congress, and Democratic leadership in particular, to stop falling for manufactured controversy. Fearless leadership for human rights everywhere should be commended, not condemned."
Organizations
Action Center on Race and the Economy
Adalah Justice Project
American Muslim Bar Association
American Muslim Empowerment Network (AMEN)
Arab American Civic Council
Armenian-American Action Network
Ayada Leads
Blue America
CAIR Washington
Carolina Peace Center
Center for Constitutional Rights
Center for International Policy
CODEPINK
Common Defense
Council on American-Islamic Relations (CAIR)
Democracy for America
Democracy for the Arab World Now (DAWN)
Facing Abuse in Community Environments
Fellow Travelers
Free Speech for People
Freedom Forward
Friends of Human Rights
IfNotNow
Indivisible
Institute for Policy Studies – New Internationalism Project
Islamophobia Studies Center
Jetpac Resource Center
Jewish Voice for Peace Action
Jews for Racial & Economic Justice
Justice Democrats
Justice Is Global
MADRE
Masa Fund
MoveOn
MPower Change
National Iranian American Council
National Lawyers Guild
Our Revolution
Poligon Education Fund
Presente.org
Progressive Democrats of America
Reviving the Islamic Sisterhood for Empowerment
Revolving Door Project
Robert F. Kennedy Human Rights
RootsAction.org
Social Security Works
South Asian Americans Leading Together
The Feminist Front
The Gravel Institute
UltraViolet
Win Without War
Working Families Party
Yemeni American Merchants Association (YAMA)
Individuals (Affiliation listed for identification purposes only)
Gordon Adams – Non-Resident Fellow, Quincy Institute
Aneelah Afzali – Executive Director, American Muslim Empowerment Network (AMEN)
Nadia Ahmad – DNC Member and Law Professor
Iram Ali – Campaign Strategist
Sophia Armen – Co-Chair, The Feminist Front
Paul Barker
Medea Benjamin – CoFounder, CODEPINK
Zahra Billoo – CAIR San Francisco Bay Area
Leah Bolger – President, World BEYOND War
Melissa Byrne – Former Coalition Coordinator at Win Without War, We, the 45 Million
Pam Campos-Palma – Director of Peace & Security, Working Families Party
John Cavanagh – Senior Advisor, Institute for Policy Studies
Joseph Cirincione – Quincy Institute for Responsible Statecraft
Hassan El-Tayyab – Friends Committee on National Legislation (FCNL)
Rabbi Barat Ellman, PhD – Adjunct Professor of Theology, Fordham University
Richard (RJ) Eskow – The Zero Hour With RJ Eskow
Marie Follayttar – Mainers for Accountable Leadership
Lara Friedman – Foundation for Middle East Peace
Brad Hanson – Retired US Diplomat
Mark Harrison
Colin Hicks – Center for Popular Democracy / CPD Action
Nabilah Islam – Progressive Activist
Marwa Janini – Arab American Association of New York
Nota Kelly Barker
Wardah Khalid
Lindsay Koshgarian – National Priorities Project, Institute for Policy Studies
Mike Lux – American Family Voices
Dan Mahanty – Center for Civilians in Conflict
Kai Newkirk – Founder & President, For All
Sana Qutubuddin – Indian American Muslim Council
Linda Sarsour – Co-founder, MPower Change, Until Freedom, Women's March
Azadeh Shahshahani – Legal & Advocacy Director, Project South. Past president, National Lawyers Guild
Ilya Sheyman – Former Executive Director, MoveOn Political Action
Yvette Simpson – CEO, Democracy for America
Yasmine Taeb – Human rights lawyer and progressive strategist
Sameena Usman – DNC Delegate for CA CD-17 and ADEM Delegate for CA AD 25
Murshed Zaheed – Progressive Leader, Changemaker
Simone Zimmerman
###
See here for a PDF version of this statement.
June 11, 2021