Statement: COVID-19 shows our foreign policy is broken. New video envisions the #WorldWeWant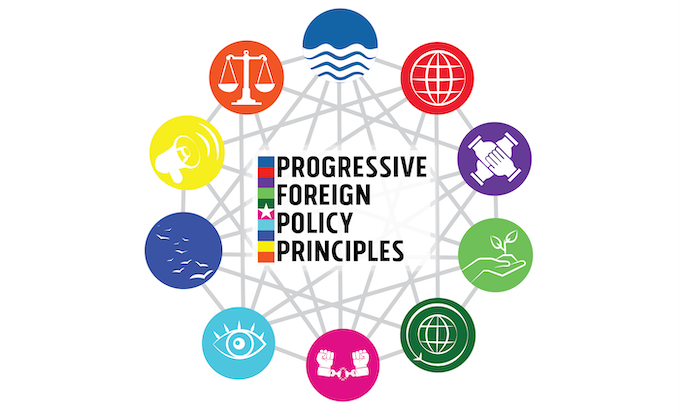 ---
Last Updated on March 31, 2020.
WASHINGTON — Win Without War has joined with allies, movement partners, and champions in Congress to release a new video outlining the foundational principles of a progressive foreign policy — principles that underlie our vision for the #WorldWeWant. This "Progressive Foreign Policy Principles" video, edited by Survival Media Agency, is available here. A description of the Principles is available here.
Win Without War Policy Director Kate Kizer released the following statement: "We are in the midst of a global crisis. This deadly pandemic is not only evidence that the existing approach to foreign policy has failed to provide human security — it's a chance to radically reform U.S. foreign policy to ensure justice and safety for all. These are the progressive foreign policy principles that will help us get there."
The video participants are leading voices in the progressive movement and members of Congress, including Congressional Progressive Caucus co-chairs Mark Pocan and Pramila Jayapal. These voices articulate what progressive foreign policy means to them and how Win Without War's progressive foreign policy principles can provide the foundation for a more just and humane U.S. foreign policy:
Kate Kizer, Policy Director, Win Without War: "We seek a world where the United States acts to uplift and reinforce all peoples' desire for dignity, prosperity and self-determination. We must build a global movement for change rooted in solidarity and our shared values of justice, equality, and security for all."
Rep. Ro Khanna (D-CA): "Our values do not stop at the water's edge."
Pam Campos-Palma, U.S. Military Veteran, Strategist in Peace & Security and Movement Building: "Human security is not divisible and our own fears of insecurity do not justify policies that make others less safe."
Rep. Barbara Lee (D-CA): "We must prioritize diplomacy, development, and the well-being of all people in the world."
Keya Chatterjee, Executive Director, U.S. Climate Action Network: "The health of the global environment is fundamental to global security."
Vince Warren, Executive Director, Center for Constitutional Rights: "We must build a sustainable, human-centered economy, and encourage those in the global economy to do the same."
Hoda Katebi, Writer, Creative, & Community Organizer: "Ending economic, racial, and gender inequality around the world and dismantling global oligarchy are fundamental to creating a world economy that works for everyone."
Sen. Chris Murphy (D-CT): "The right to self-determination, economic prosperity, and freedom from oppression are the drivers of a stable and inclusive world system."
Cristina Jimenez, Executive Director, United We Dream: "The location of someone's birth should never confine them to poverty, war, or environmental insecurity."
Rahna Epting, Executive Director, MoveOn: "We must democratize our foreign policy and include and center those most affected by our decisions."
Rep. Pramila Jayapal (D-WA): "We must build the United States' credibility in the world by consistently upholding our values and these principles in every instance, not only when convenient."
###
Win Without War is a diverse network of activists and national organizations working for progressive foreign policy in the United States.
March 23, 2020