Statement: Investigation into Misuse of Troops is a Victory, First Step Toward Accountability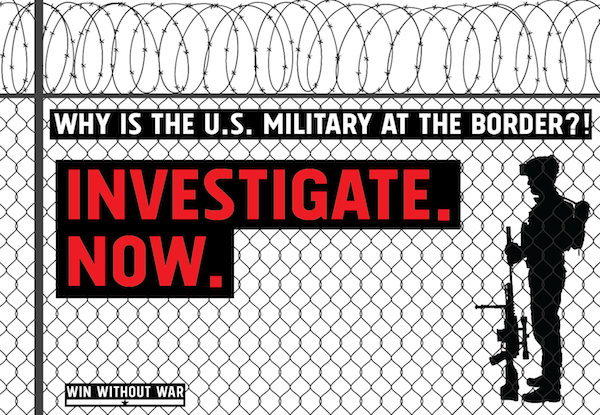 ---
Last Updated on January 3, 2020.
FOR IMMEDIATE RELEASE Wednesday December 11, 2019
Contact: Michael Galant michael@winwithoutwar.org 203-260-4654

WASHINGTON — Win Without War Program Manager for Policy and Advocacy Mariam Iskajyan released the following statement regarding the Department of Defense (DoD) Office of the Inspector General's (OIG) decision to launch an investigation into the legality of President Trump's deployment of U.S. military personnel and resources at the southern border:
"In November 2018, Donald Trump authorized U.S. troops to use lethal force against migrants and asylum seekers at the southern border. This was cruelty for cruelty's sake. It was also a dangerous abuse of power. Win Without War and communities across the progressive movement fought back. After a year of relentless campaigning, Principal Deputy Inspector General of the Department of Defense Glenn Fine announced yesterday that his office would open an investigation into Trump's misuse of U.S. troops and military resources.
"This is a huge win for the progressive movement, and a critical reminder that we are not powerless in the face of encroaching authoritarianism. The DoD OIG would not have taken this action without the combined pressure of 34 members of Congress, led by Representative Raul Grijalva, dozens of national organizations, including our partners United We Dream, the Southern Border Communities Coalition, and Daily Kos, representing tens of millions of individuals from a broad cross-section of communities, and the committed efforts of over a hundred thousand grassroots activists. This victory is a testament to the power of the people.
"The Trump administration has used U.S. service members as political pawns, terrorizing migrants and asylum seekers in order to advance his anti-immigrant agenda. The launch of this investigation moves us closer to reigning in the power of the imperial presidency, demilitarizing the U.S. southern border, and safeguarding the human right to seek asylum.
"The fight isn't over. We have a long way to go before the U.S. southern border becomes a place of refuge and hope rather than militarization and fear. This week's victory is one step forward."
###
Win Without War is a diverse network of activists and national organizations working for progressive foreign policy in the United States.

December 11, 2019