40 Orgs Urge Congress To Investigate Pentagon's Misuse of COVID-19 Relief Funds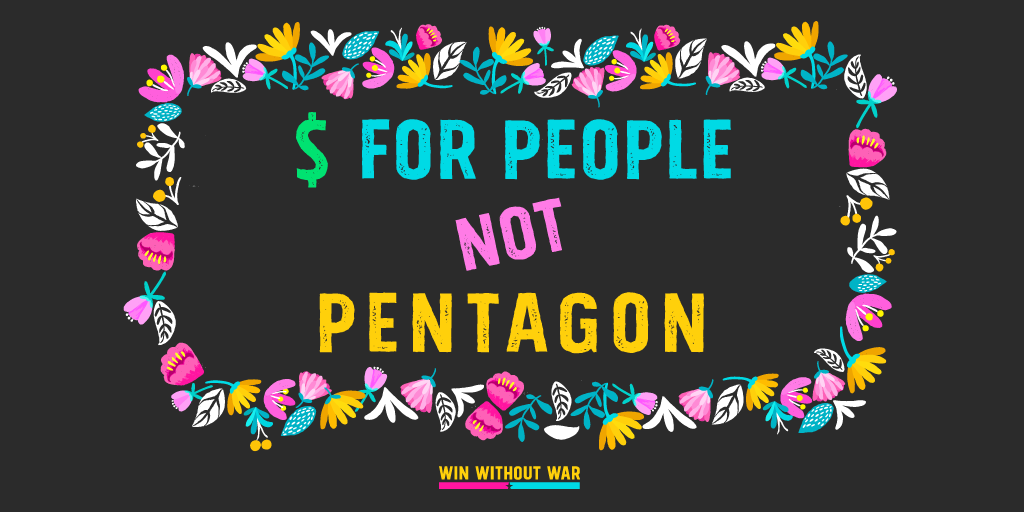 ---
Last Updated on November 16, 2020.
WASHINGTON — Following this week's revelations that the Pentagon misused $1 billion in CARES Act funding intended for responding to the COVID-19 crisis, the National Taxpayers Union (NTU), the Project On Government Oversight (POGO), Win Without War and 37 other organizations, representing diverse positions across the political spectrum, sent a letter to the House Select Subcommittee on the Coronavirus Crisis calling for an investigation.
The letter calls on the Select Subcommittee to investigate when, how, and why the Pentagon elected to contravene the intent of the funding, to share the findings with the public, and to determine whether there should be a rescission of the Department of Defense's budget authority for the $1 billion fund.
"This gross misuse of COVID-19 relief funds provides yet another example of the Pentagon's wasteful, unaccountable spending, which puts the corporate profits of the weapons industry over the lives and wellbeing of everyday people," said Win Without War Advocacy Director Erica Fein. "This scandal should be a wake-up call. The greatest threats to human security cannot be addressed by funneling money into weapons of war. We must resist the corrupting influence of the military contracting industry, stop pouring our resources into the bloated, unaccountable Pentagon coffers, and instead invest in meeting our country's, and the world's, real human needs."
"It's unconscionable that the Department would prioritize defense contractor wishlists over the health and safety of the American people. Congress was clear that it wanted the Department to use its powers to address PPE shortages that continue to this day, and the Department shirked its duties," said Mandy Smithberger, director of the Center for Defense Information at the Project On Government Oversight. "The American people deserve better judgment from the agency entrusted with leading our national security and responses to unanticipated threats."  
"Advocates of fiscal responsibility and limited government should call out waste of taxpayer dollars when we see it, and that certainly applies to the Pentagon's budget just as much as it does for any other federal agency," said Andrew Lautz, Policy and Government Affairs Manager at NTU. "We're glad that several taxpayer advocacy organizations joined our effort to ensure this $1 billion in waste is properly investigated. The Pentagon has the largest annual budget of any department in government, making oversight of their spending absolutely critical. Much work remains to be done in this space."
American Family Voices · American Friends Service Committee · Beyond the Bomb · Center for Defense Information · Center for International Policy · Church of the Brethren, Office of Peacebuiding and Policy · Citizens for Responsibility and Ethics in Washington (CREW) · Coalition on Human Needs · CODEPINK · Council for a Livable World · Demand Progress · DemCast USA · FreedomWorks · Friends Committee on National Legislation · Good Jobs First · Greenpeace USA · Indivisible · Kairos Center for Religions, Rights, and Social Justice · Mainers for Accountable Leadership · National Priorities Project at the Institute for Policy Studies · National Taxpayers Union · Nuclear Watch New Mexico · Pax Christi USA · Peace Action · Physicians for Social Responsibility · Project On Government Oversight · Protect Democracy · Public Citizen · R Street Institute · Sisters of Mercy of the Americas – Justice Team · Taxpayers for Common Sense · Taxpayers Protection Alliance · The United Methodist Church – General Board of Church and Society · Tri-Valley CAREs · Union of Concerned Scientists · United Church of Christ, Justice and Witness Ministries · Veterans For Peace · Washington Physicians for Social Responsibility · Win Without War · Women's Action for New Directions (WAND)
###
Win Without War is a diverse network of activists and national organizations working for progressive foreign policy in the United States.
September 24, 2020