After Hanoi Summit, We Must Continue To Support Diplomacy With North Korea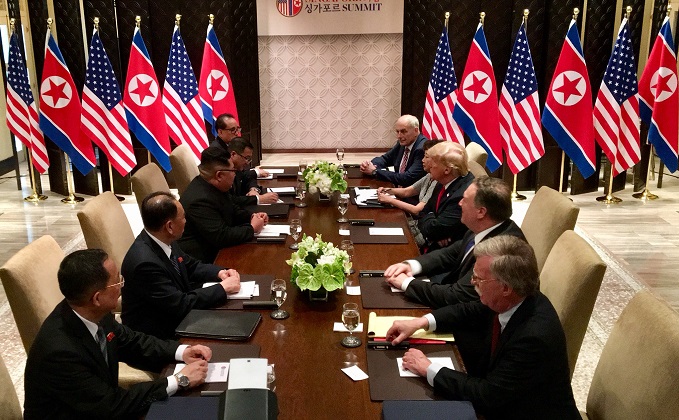 ---
Last Updated on March 13, 2019.
WASHINGTON — Win Without War Advocacy Director Erica Fein released the following statement regarding the outcome of the Hanoi Summit:
"While it's disappointing that the Hanoi Summit has ended without further progress, we must recognize that diplomacy with North Korea will be a long process, and the fact that all sides remain committed to it is encouraging.

"Diplomacy always comes with setbacks, but we must promote and support further dialogue and create and maintain the political space required for the president to continue on this path. Indeed, North Korea's missile and nuclear weapons testing still remains frozen. The U.S. should refrain from any provocative actions — like resuming military exercises — that can upend previously achieved goodwill.

"We should not root for Donald Trump to fail. At the same time, we cannot ignore the red flags raised about the competency and commitment of Trump and his Administration based on the failure to make progress in Hanoi.

"This isn't a real estate deal. Trump must recognize the immense complexity of the issues, the need for seasoned, professional diplomats, and the simple reality that diplomacy is not just about the personal connection of those negotiating.

"Reports of what both sides were to supposed to agree to in Hanoi — a partial freeze on North Korea's nuclear weapons program in exchange for limited sanctions relief in addition to a symbolic peace declaration recognizing the end of the Korean War — would have been welcome and successful steps toward a lasting peace and denuclearization.

"Going forward, U.S. officials at the 'working level' will need space for more diplomatic engagement and negotiations with their North and South Korean counterparts.

"We must simultaneously push back against forces opposing diplomacy — like Trump's National Security Advisor John Bolton — who seemingly had a hand in derailing the Hanoi Summit.

"Diplomacy remains the only option to achieve a lasting piece on the Korean Peninsula and to entice North Korea to denuclearization. War would be catastrophic and is simply not an option.

"We must also remember that the peace and security of the Korean people, the region, and the broader world is at stake. This diplomatic process is about supporting the will of the Korean people and their right to determine their own destiny, not about Trump. We must take advantage of this opportunity to truly open the door to peace, reconciliation, and true security on the Korean Peninsula by supporting further diplomatic engagement that leads to a long-term process towards these mutual goals."
###
Win Without War is a diverse network of activists and national organizations working for progressive foreign policy in the United States.
February 28, 2019