August Recess Guide for Progressive Foreign Policy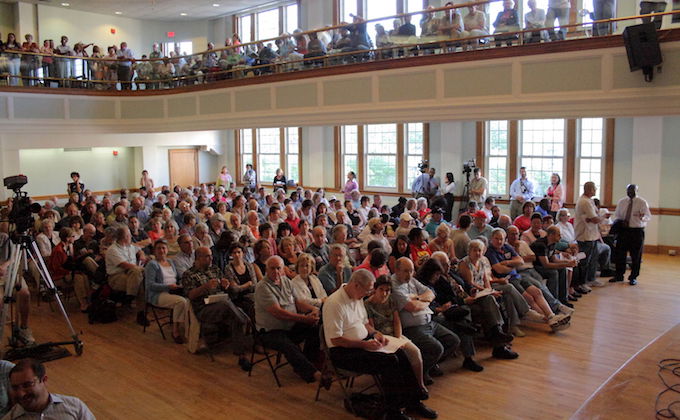 ---
Last Updated on February 2, 2021.
When Congress returns from its long August recess, its agenda will include conferencing the House and Senate versions of the National Defense Authorization Act (NDAA) — which means that August is a make or break time to talk to your Senators and Representatives about our progressive foreign policy priorities!
This August, when your members of Congress are back home, we are asking that you talk to them about three critical foreign policy issues: stopping war with Iran, ending all U.S. involvement in the Saudi/Emirati war in Yemen, and preventing Donald Trump's new Gateway Nuke. If we fight hard, we have a chance to enact these policies into law — and the first step is making sure our members of Congress know that we care and that we want answers.
Below are six questions (on Iran, Yemen, and nukes) to ask your member of Congress during August recess at a town hall or any other event they may be at.  Click here to find your townhall!
Iran
As a Member of Congress, what are you doing to stop Donald Trump and his war cabinet from starting a needless, costly, and destructive war with Iran?
What will you do to ensure the Khanna-Gaetz NDAA amendment that prohibits funding for an unauthorized war with Iran makes it into the final bill?
[CLICK HERE FOR A GUIDE ON STOPPING WAR WITH IRAN]
Yemen
For four long years, the U.S. has provided military assistance to the Saudi and Emirati-led coalition for their war in Yemen, which has helped fuel the world's largest humanitarian crisis. What are you doing to end U.S. complicity in the war and humanitarian catastrophe in Yemen?
What are you doing to ensure that the Malinowski amendment and the Khanna-Schiff amendment to end U.S. support for the war in Yemen are included in the final version of the NDAA?
[CLICK HERE FOR A GUIDE ON ENDING US COMPLICITY IN THE SAUDI/EMIRATI WAR IN YEMEN]
Gateway Nukes
The American people oppose the U.S. initiating a nuclear war and are worried about Trump's ability to launch nuclear weapons. What are you doing to prevent nuclear proliferation and stop Trump from getting his new "low-yield" nuclear warhead?
What are you doing to ensure that language that blocks funding for the production and deployment of new "low-yield" nuclear weapons is included in the final version of the NDAA?