Messaging Guidance: Trump's Meeting With Kim At The DMZ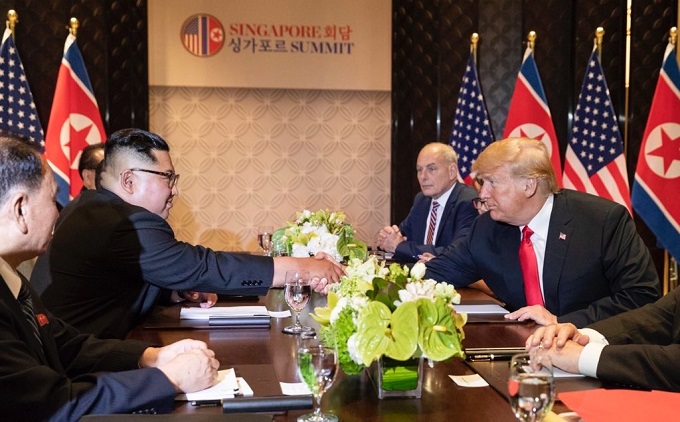 ---
Last Updated on January 11, 2021.
Regardless of how one feels about Donald Trump, we should support his recent meeting with North Korean leader Kim Jong-un at the Demilitarized Zone, which is, if nothing else, an important step in reviving the serious diplomacy necessary to  advance the twin goals of denuclearization and a lasting peace regime on the Korean Peninsula. 
Supporting this diplomatic process is not about supporting Donald Trump, but about supporting the will of the Korean people and their right to determine their own destiny. We must seize this opportunity to re-engage in negotiations toward peace on the Korean Peninsula.

It's likely that Trump's main motivation in arranging this meeting with Kim was how it would make him look on TV. But we can at least be thankful that, for once, his vanity has accidentally led the United States in the right direction.

Although Trump's cozying up to dictators like Kim and Vladimir Putin is alarming, the reality is that negotiations with North Korea are the only way forward out of this crisis and the best opportunity to create peace, seriously focus on improving North Korea's vile human rights abuses, and limit the proliferation threat in the long-term. 
Now, the real work begins. Progress will require many months of hard work and the empowerment of working-level negotiators on both sides to get results. 
Trump must exclude any potential spoilers within his administration from this process, particularly National Security Advisor John Bolton.

Progress on denuclearization requires a transformation of U.S.-North Korea relations. To achieve lasting peace and denuclearization, the United States must offer concrete reciprocal proposals that coincide with any effort by North Korea to verifiably suspend and/or dismantle its nuclear weapons program.

The United States must support South Korean efforts to improve inter-Korean relations.

We should oppose any unprovoked attack on North Korea and support targeted sanctions relief in exchange for verifiable actions toward peace and denuclearization.
July 2, 2019