No War with Iran: Messaging Guidance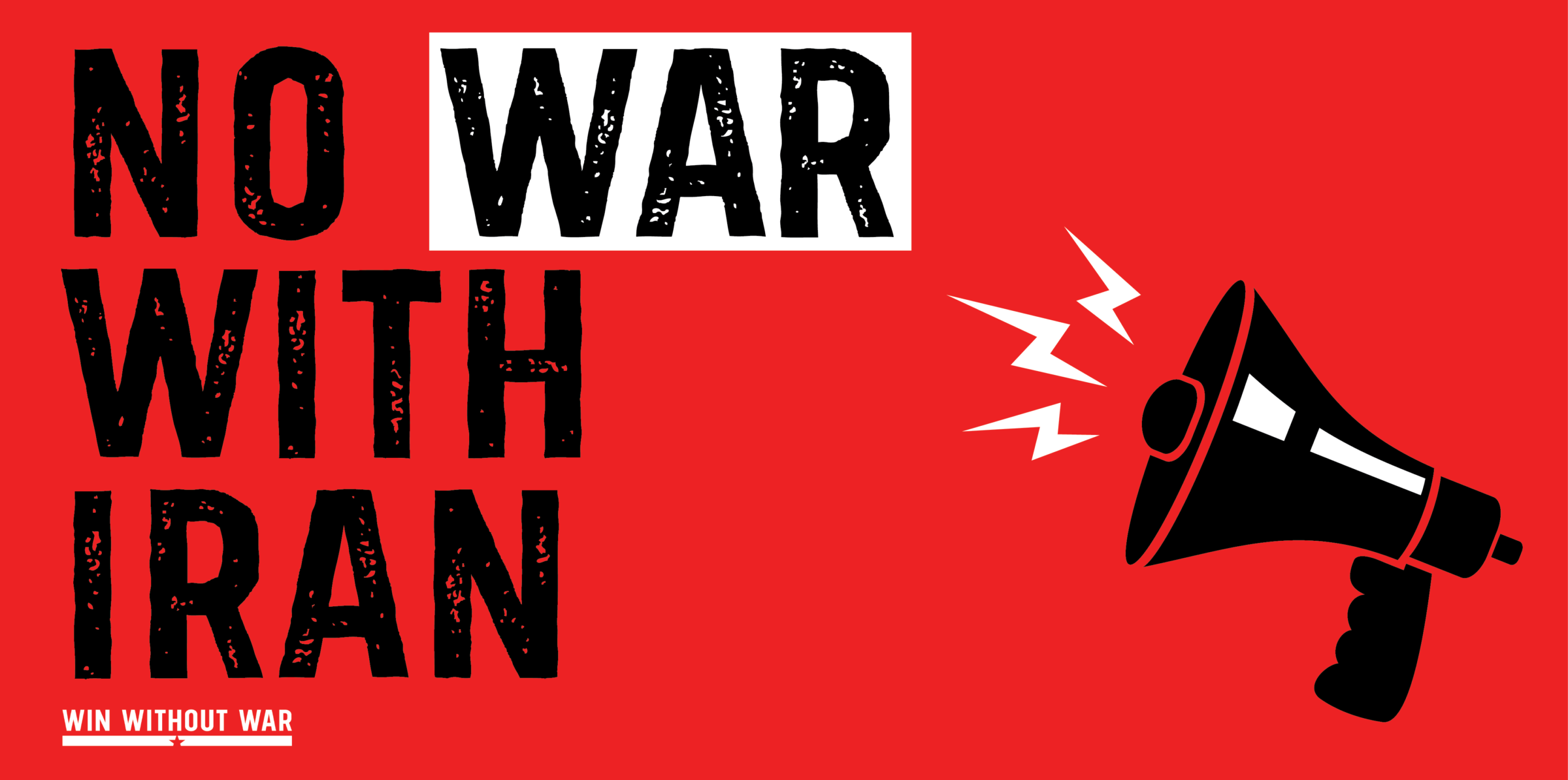 ---
Last Updated on January 11, 2021.
We are on the brink of war. We condemn military escalation from all parties. But make no mistake: Donald Trump brought us here. The time for de-escalation and diplomatic intervention is now.

Iran's retaliation is condemnable. It was also limited, deliberate, and an entirely predictable response to Donald Trump's military escalation.
Trump entered office with some of the most promising inroads to peaceful relations with Iran in decades. Instead, he:

Established a policy of hostility and antagonism toward Iran from day one, [1]

By committing an unnecessary and aggressive act of war, Trump antagonized Iran into a military retaliation that threatens an uncontrollable tit-for-tat escalation and all-out war.
Now is the time for a halt to military actions and immediate de-escalation.

The wars in Iraq and Afghanistan have been disastrous. War with Iran would be too.
War with Iran with the goal of ending its nuclear program or changing the regime would require a massive U.S. invasion and occupation that would be just as fruitless, just as costly, and just as deadly as the U.S. wars in Iraq and Afghanistan [1][2]
Starting a war with Iran would likely destabilize an entire region, funnel U.S. resources into an unwinnable conflict, and unleash mass-scale human suffering on Iran's 80+ million civilian population and beyond. [1]
Even a military conflict short of full-scale war will result in the continued suffering and loss of life that has already marked decades of U.S. endless war in the Middle East.
If we have learned anything from the almost two decades of destructive, futile, endless wars, now is the time to act like it.

We can still stop the march to war.
Iran's retaliatory attack was limited and deliberate, striking the bases from which they claim the illegal and unnecessary assassination of Soleimani came, and targeting an area with no U.S. forces. Iran has laid down the path to de-escalation. [1]
Now is the time to end all incendiary rhetoric, halt the vicious cycle of tit-for-tat violence, and immediately engage in a massive diplomatic effort for peace.
To make that happen, we need a massive display of people-power — and to speak with a unified voice.

Only Congress can decide whether U.S. forces should be put into harm's way.
Bipartisan majorities in both chambers, backed by vast grassroots support, sought to block this type of offensive executive military action against Iran in the fiscal year 2020 National Defense Authorization Act. But even this most basic level of congressional oversight was too much for the Trump administration and much of the Republican party, which stripped the language in the bill's final negotiations. Sadly, we're now seeing the results of that dereliction of duty. [1] [2]
Members of Congress and experts have stated that the current authorizations for the use of military force (that authorize the post-9/11 wars) do not authorize war with Iran. [1] [2] [3]
But even with Congressional approval, war with Iran would be futile, disastrous, and immoral.

The American people don't want war.
The U.S. public does not want a war, the only question is if Washington's leaders will listen to them and choose a different path.
A Gallup poll found 78 percent of Americans think the U.S. should rely on non-military tools like diplomacy versus 18 percent who preferred the U.S. use military force against Iran. [1]
A Harvard CAPS/Harris poll conducted this summer found only 5 percent of American voters wanted to declare war on Iran. [1]
A CNN poll — conducted weeks after Trump's military build-up this spring — found that just 32 percent of Americans approve of Trump's handling of Iran. [1]
A Reuters/Ipsos poll found that just 29 percent supported Trump's policy of withdrawing from the Iran nuclear agreement. A CNN poll found that 63 percent said the U.S. should not withdraw. [1] [2]
A VoteVets poll found that 54 percent of likely swing state voters oppose a U.S. attack on Iran, while only 29 percent support. [1]

Escalation undermines the fight for democracy, justice and liberation in Iran and here at home.
Iranian activists have spent decades fighting for peace, women's rights, normalized relations with the U.S., and a more just and democratic society. Donald Trump's actions have sidelined these voices — the very ones that we should be uplifting and empowering — and instead rallied support for the regime's hardliners. [1]
Reports that U.S. citizens and Green Card holders of Iranian descent were held for questioning at the U.S. border for up to 10 hours are a chilling reminder of how quickly the prospect of war erodes our domestic civil rights. [2]

This comes on top of the administration's decision to ban Iranian nationals from entering the U.S. as a part of the racist Muslim Ban.

De-escalation is necessary not only to prevent all-out war, but to strengthen the fight for inclusive democracy and to protect the rights of marginalized communities abroad and at home.

Win Without War, and our allies and partners, are fighting for peace.
Grassroots organizations from around the country — representing the progressive foreign policy, anti-militarism, Iranian-American communities, and more — are building a movement to stop the war, end the crisis, and build peace between the U.S. and Iran.
January 14, 2020