Statement: Victory — New COVID-19 Relief Bill Contains No New Pentagon Funds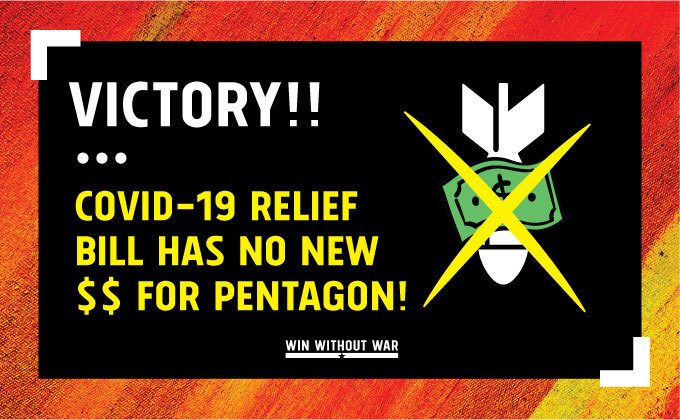 ---
Last Updated on May 30, 2020.
FOR IMMEDIATE RELEASE Tuesday May 12, 2020
Contact: Michael Galant michael@winwithoutwar.org 203-260-4654
WASHINGTON — Win Without War Executive Director Stephen Miles released the following statement on the House Democrats' newly released text of the Phase IV COVID-19 relief bill, The Heroes Act:
"We asked. House Democrats listened. Three weeks ago, Win Without War and over 60 other organizations signed a letter urging Congress against providing additional funding to the Pentagon in future COVID-19 relief bills. We are happy to say that the bill unveiled in the House today — The Heroes Act — contains no new funds for the Pentagon.
"Even before the COVID-19 crisis, the Pentagon budget was out of control. In Congress's first COVID-19 relief bill, it received an additional $10.5 billion. Then, acting largely at the behest of private defense contractors, it asked for billions more. Thanks to leadership in Congress, our movement partners, and a nationwide mobilization of grassroots activists, today's bill refused that request. We applaud House Democrats for putting people over the Pentagon.
"Far from a reason to boost Pentagon spending, the COVID-19 crisis should be a wake-up call: pouring money into the Pentagon while cutting funding for public health and other human needs has not made us safer. It's time to rethink our approach to national security, and put human needs first.
"While this is a victory, it's not the end. We call on Congress to ensure that this bill, and all further COVID-19 relief bills, remain free of Pentagon budget increases and handouts to the arms industry. We say loud and clear: No more money for the Pentagon."
###
Win Without War is a diverse network of activists and national organizations working for progressive foreign policy in the United States.
May 12, 2020