Statement: The Firing of IG Linick Makes it Clear, It's Time to End Arms Sales to Saudi & UAE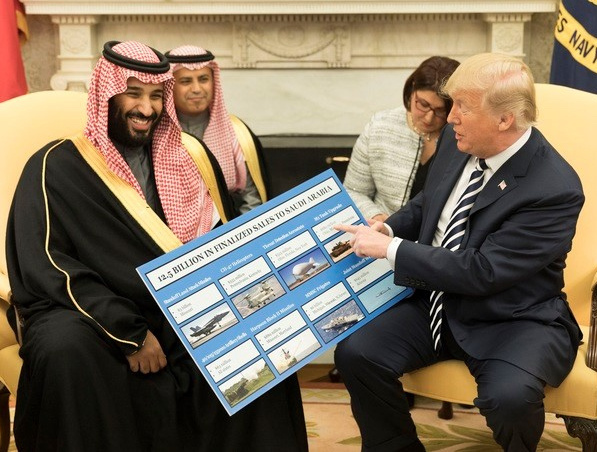 ---
Last Updated on June 29, 2020.
FOR IMMEDIATE RELEASE Tuesday May 19, 2020
Contact: Michael Galant  michael@winwithoutwar.org  203-260-4654
WASHINGTON — Win Without War Executive Director Stephen Miles released the following statement on Donald Trump's firing of State Department Inspector General Steve Linick:
"In May 2019, Secretary Pompeo bypassed Congress and potentially broke the law in order to sell weapons to Saudi Arabia and the United Arab Emirates (UAE) for use in the war in Yemen. Now, we've learned that Trump may have fired the State Department Inspector General for investigating this decision. Beyond further evidence of Trump's proclivity to break the law when it suits him and his cronies, this incident should be a wake-up call: the reprehensible policy of arming Saudi Arabia and the UAE is based on little more than corruption. It's time for it to end.
"The United States has for too long been complicit in the catastrophic war in Yemen and other Saudi and Emirati human rights abuses. When the Saudi-led coalition bombed a school bus filled with children in 2018, killing forty, they used U.S.-made bombs. Despite the Obama administration's eventual decision to pause some arms sales and repeated bipartisan majorities in Congress voting to block sales, the Trump administration pressed on. We now know this president's attempt to shield these countries from scrutiny was spurred by trade advisor Peter Navarro and his kowtowing to the interests of arms dealers.
"But this is not the only case of the U.S. subordinating its professed values to arms dealers and oil-rich Gulf monarchies. Successive administrations have overlooked countless human rights abuses and damage to U.S. and global security in unquestioning support of Saudi Arabia and the UAE. The Trump administration has taken this further, looking the other way on the blatant torture and assassination of journalist Jamal Khashoggi, repeatedly bringing us to the brink of war with Iran, eschewing repercussions when a Saudi Air Force cadet with ties to Al Qaeda carried out a shooting at the Naval base in Pensacola, and ignoring the UAE's diversion of U.S. weapons to militants in Libya's civil war. Trump and Pompeo have merely taken the corrupt U.S. alliance with the UAE and Saudi Arabia to its logical, dangerous conclusion.
"It's time for Congress to enact an unconditional ban on arms sales to Saudi Arabia and the UAE. There must be repercussions for this corruption of our foreign policy. We must end the U.S. role in propping up human rights abusers and an overpowered arms industry."
###

Win Without War is a diverse network of activists and national organizations working for progressive foreign policy in the United States.
May 19, 2020