100+ Activists Join Human Rights Experts to Explore How Sanctions Undermine Changemakers in Iran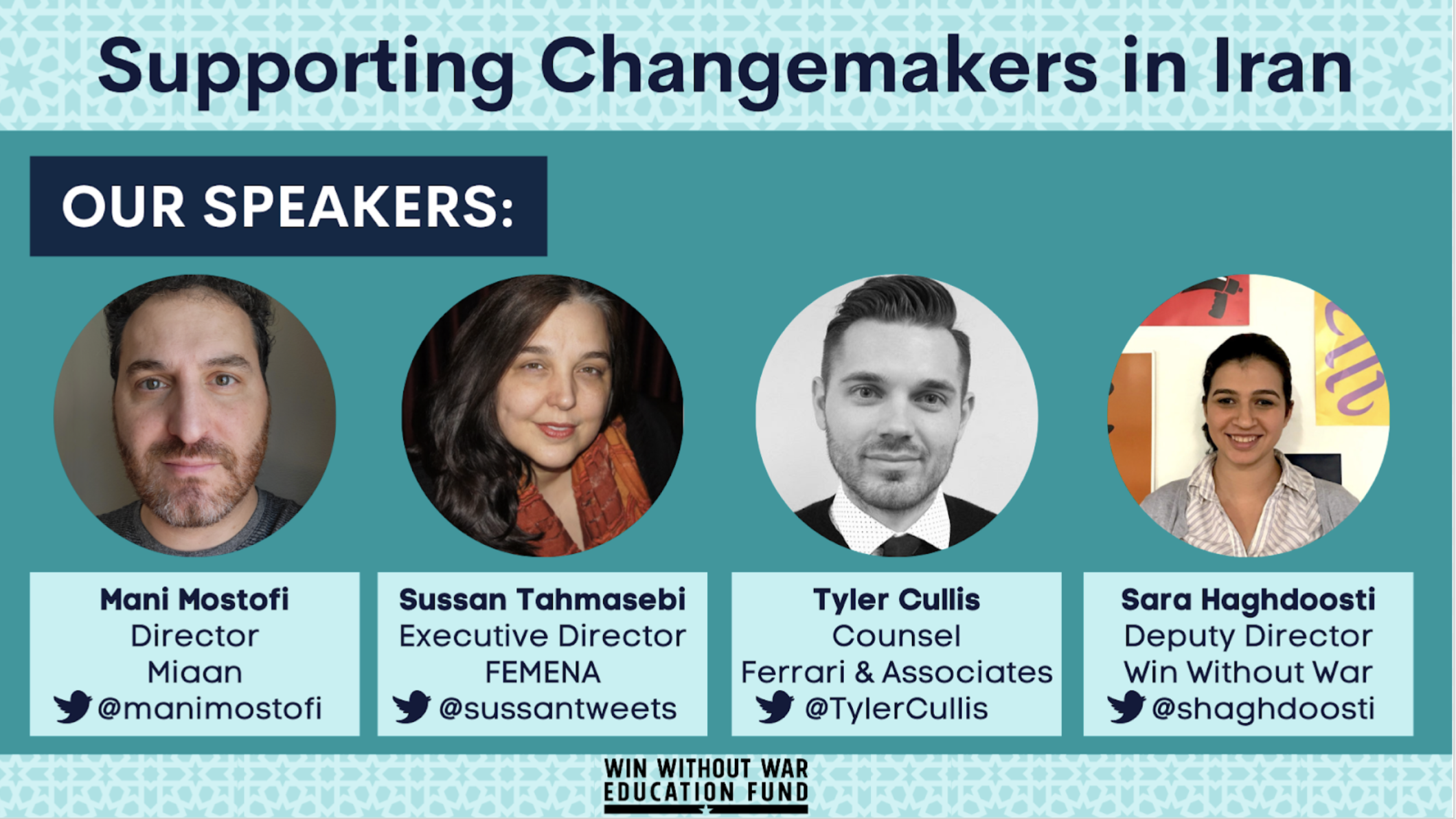 ---
Last Updated on June 11, 2021.
WASHINGTON — Yesterday, over 100 grassroots activists heard from leading foreign policy and human rights experts on the impact international, broad-based sanctions have on Iranian civil society, why it's been so hard to achieve meaningful sanctions relief, and some of the ways in which activists in the United States can be allies to those in Iran.
What: Supporting Changemakers in Iran
Who: Organized by Win Without War Education Fund, the event brought together over 100 grassroots activists, and featured the following speakers:
Sussan Tahmasebi, Executive Director of FEMENA

Mani Mostofi, Director of Miaan Group 

Tyler Cullis, Counsel at Ferrari & Associates

Moderator: Sara Haghdoosti, Deputy Director of Win Without War Education Fund
Where: The event took place virtually. Watch the webinar in full here.
When: Wednesday May 12, 2021; 12:00pm ET
Note: the following quotes represent the views of each speaker alone, and do not constitute an endorsement by all webinar participants.
"Activists in Iran are trying to respond to the deteriorating economic situation, which along with COVID, has made Iranians poorer and sicker," said Sussan Tahmasebi, Director of FEMENA. "But activists have to contend with economic pressures resulting from sanctions as well as state repression when trying to bring about positive change."
"Sanctions have done tremendous harm to the lives of ordinary people in Iran, driving millions into poverty," said Mani Mostofi, Director of Miaan Group. "Finding a diplomatic and political route to sanctions relief is vital to promoting human rights in the country."
"Broad-based sanctions like those targeting Iran inevitably have substantial impacts on humanitarian conditions on the ground," said Tyler Cullis, Counsel at Ferrari & Associates. "The time is ripe for the Biden administration to center these humanitarian impacts when considering U.S. sanctions policy and to fully appreciate that U.S. interests are not served by sanctions that harm humanitarian trade and undermine civil society."
###
Win Without War Education Fund is the 501c3 partner organization of Win Without War, a diverse network of activists and national organizations working for progressive foreign policy in the United States.
May 13, 2021