ADVISORY: WWW Webinar to Explore How Sanctions Undermine Changemakers in Iran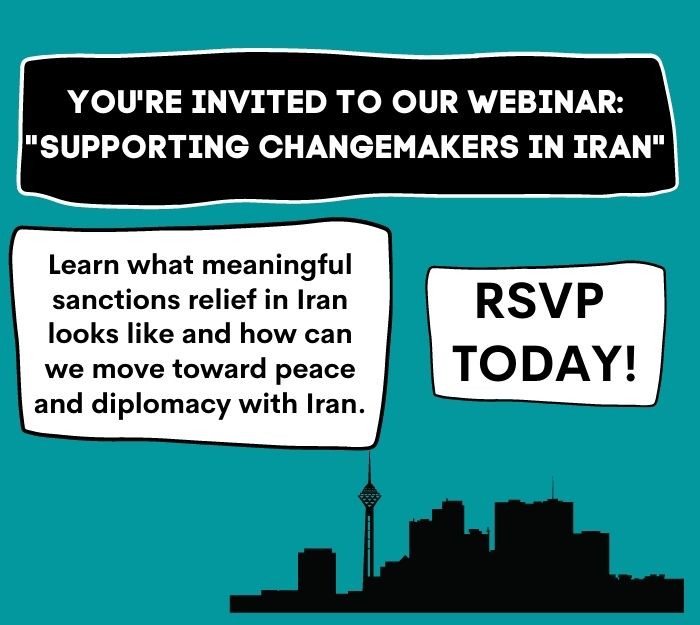 ---
Last Updated on May 28, 2021.
WASHINGTON — Facing immense challenges from within and without, people in Iran are fighting for a better future for their country. But one of their greatest obstacles is the continued impact of crushing U.S. and international sanctions. This conversation will include human rights experts and will explore the impact these sanctions have on Iranian civil society, why it's been so hard to achieve meaningful sanctions relief, and some ways we in the United States can be allies to Iranian activists. 
What: "Supporting Changemakers in Iran"
Who: Hosted by Win Without War, the event will bring together hundreds of grassroots activists, and will feature the following speakers:
Sussan Tahmasebi, Executive Director of FEMENA

Mani Mostofi, Director of Miaan Group 

Tyler Cullis, Counsel at Ferrari & Associates

Moderator: Sara Haghdoosti, Deputy Director of Win Without War.
Where: The event will take place on Zoom. Please register at the following link.
When: Wednesday May 12, 2021; 12:00pm ET
###
Win Without War is a diverse network of activists and national organizations working for progressive foreign policy in the United States.
May 10, 2021