40+ Orgs to Biden: Iran Needs Sanctions Relief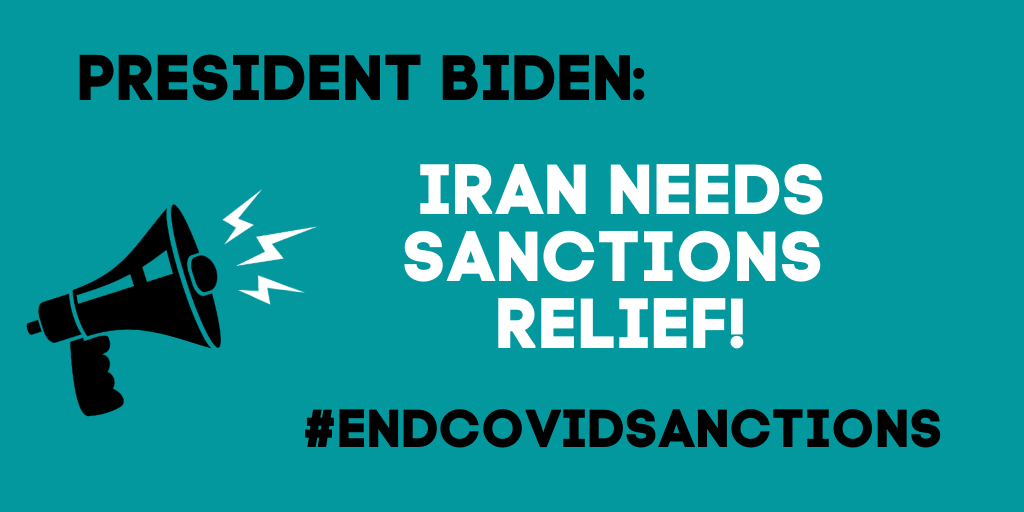 ---
Last Updated on May 13, 2021.
WASHINGTON — A diverse coalition of 43 organizations — representing foreign policy and peace activists, veterans, human rights defenders, and Iranian Americans — sent a letter calling on President Biden to provide urgently-needed sanctions relief for the people of Iran as they combat another deadly wave of the Covid-19 pandemic.
More than 65,000 Iranians have already died as a result of the pandemic — a tragic figure made worse by the fact that sanctions have made the crisis far worse. The signers of this letter urge President Biden to take a new approach: "COVID-19 is a shared threat, and the U.S. needs to treat it like one. By prioritizing humanitarian relief for Iran and other sanctioned states, President Biden can follow through on his campaign commitment and demonstrate that the U.S. can be a force for global good."
Read the full letter here.
"Iran's COVID infection rates are at about the highest levels we have seen since the start of the pandemic. Any delays in vaccination will directly translate into a grave risk to the lives of ordinary Iranians." said Mani Mostofi, director of the human rights organization Miaan Group. "Because sanctions on Iran clog up the global financial system and the country's access to foreign currency, it's imperative that the Biden Administration proactively ensure the US is not responsible for exacerbating this health crisis." 
"The biggest concern we hear from our members right now is the impact of sanctions on their loved ones in Iran," said Jamal Abdi, President of the National Iranian American Council. "Our family and friends find it increasingly difficult to secure and afford critical medicine like insulin and cancer treatments, and are struggling with mass unemployment and inflation. President Biden knows that urgent steps are needed to ease sanctions on ordinary Iranians. Many members of the Iranian-American community are counting on him to live up to his campaign commitment and ensure sanctions do not block humanitarian trade with Iran."
"Even in the best of times, the United States' broad-based sanctions on Iran are unconscionable forms of collective punishment," said Win Without War Deputy Director Sara Haghdoosti. "They fuel poverty and suffering, rally support for hardliners, and undermine the people of Iran who are fighting for change. To continue to uphold these during a pandemic should be unthinkable. For the people of Iran and the United States alike, President Biden must act now."
###
Win Without War is a diverse network of activists and national organizations working for progressive foreign policy in the United States.
April 21, 2021