Trump waived Iran sanctions because the nuclear deal is working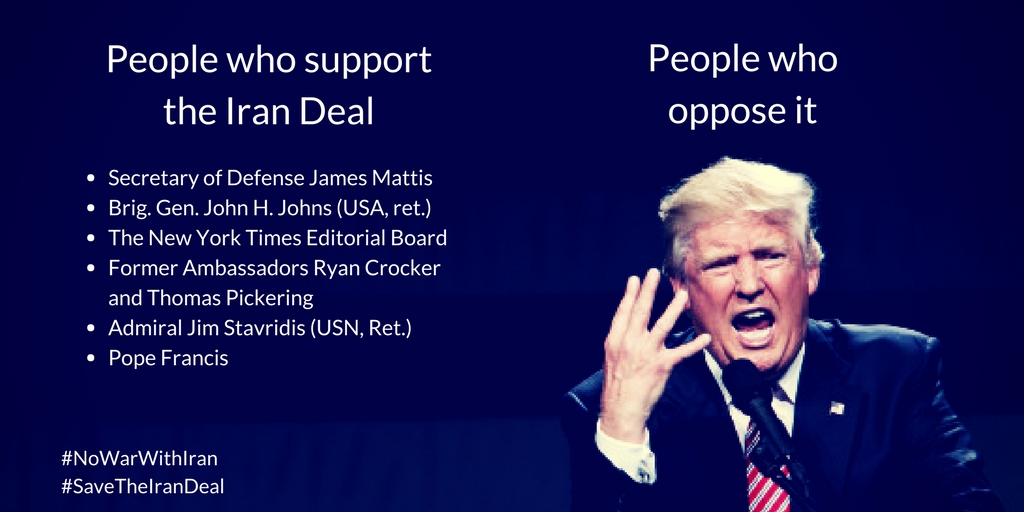 ---
Last Updated on January 12, 2018.
Win Without War Director Stephen Miles released the following statement regarding President Trump's decision to waive nuclear related sanctions on Iran:
The Iran deal is working, and that's why Donald Trump yet again kicked the can down the road today. The Joint Comprehensive Plan of Action  — as the Iran nuclear deal is formally known —  does not need to be fixed, and we strongly urge Congress against participating in any such efforts that will ultimately result in killing the Iran nuclear deal.
If Trump decides to kill the Iran Deal in four months, he, along with his enablers in Congress and beyond, will be responsible for killing one of the greatest diplomatic achievements in U.S. history, and for putting America back on the path to war with Iran.
The JCPOA is working as it was designed by blocking all pathways that Iran could use to build a nuclear weapon. We know this because the International Atomic Energy Agency continues to verify that the deal is working and that Iran is in compliance.
In fact, nearly everyone on Donald Trump's national security team — including Defense Secretary James Mattis, Secretary of State Rex Tillerson, and National Security Adviser H.R. McMaster — agrees with this assessment.
By creating uncertainty about the Iran deal's future, however, Trump is chipping away at the agreement itself, scaring away investment in Iranian businesses, and denying Iran the economic relief it was promised by agreeing to this deal.
This is a dangerous mistake that could put America on a path to war.
January 12, 2018