Win Without War Commends Senate Efforts to Block Trump's UAE Arms Deal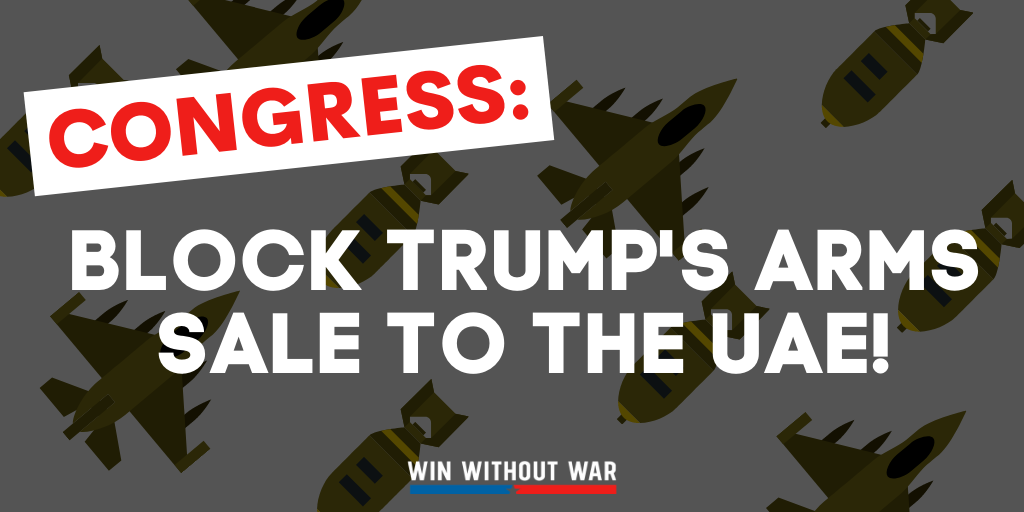 ---
Last Updated on December 8, 2020.
FOR IMMEDIATE RELEASE Wednesday November 18, 2020
CONTACT Michael Galant, michael@winwithoutwar.org, +1 (203) 260-4654
WASHINGTON — Win Without War Advocacy Director Erica Fein released the following statement regarding Senators Menendez (D-NJ), Murphy (D-CT), and Paul's (R-KY) introduction of joint resolutions of disapproval of Donald Trump's intended sale of $23 billion worth of weapons to the United Arab Emirates (UAE): 
"We commend Senators Menendez, Murphy, and Paul for joining together to resist Donald Trump's reprehensible attempt to sell $23 billion worth of fighter jets, armed drones, and bombs to his authoritarian friends in the United Arab Emirates on his way out of the White House door.  This bipartisan resolution shows that Congress won't be deterred from yet again pushing back against an administration that is bent on selling arms to benefit foreign dictators and corrupt weapons manufacturers, rather than the peace and security needs of everyday people.
"We urge Congress in the strongest terms to pass these resolutions. Doing so will continue to reflect that a bipartisan majority in Congress believes that the UAE should not be allowed to operate with impunity for its conduct in prolonging the war in Yemen or its ongoing human rights abuses in Yemen, Libya, and across the Horn of Africa. 
"The incoming Biden administration, for its part, should heed this signal from Congress and commit to blocking this sale, undoing all the sales opposed by Congress under Trump, and preventing similar sales in the future — to finally put human rights, not corporate profits, first in U.S. foreign policy."
###
Win Without War is a diverse network of activists and national organizations working for progressive foreign policy in the United States.
November 18, 2020