ICYMI: Members of Congress and NGO Leaders Called for an Investigation into Trump's Troop Deployment on Southern Border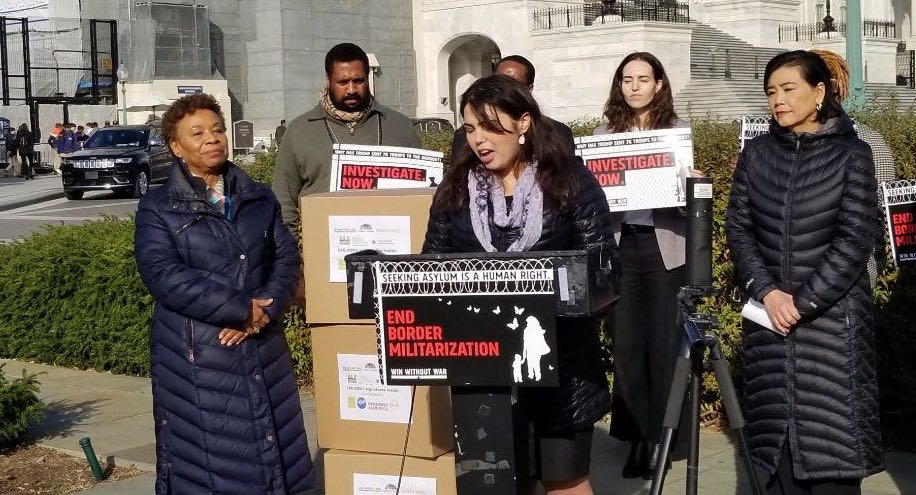 ---
Last Updated on January 23, 2020.
Washington, DC – In a press conference today, November 15, Representatives Raúl M. Grijalva (AZ-03), Barbara Lee (CA-13), Judy Chu (CA-27), Juan Vargas (CA-51), as well as NGO leaders and community-based advocates called on the Department of Defense Inspector General Glenn A. Fine to open an investigation into Donald Trump's deployment of thousands of active-duty and National Guard troops to the U.S. southern border.
Today marked nearly one year after the Trump administration announced its dangerous expansion of authorities at the U.S. southern border, including the claimed authority to use lethal force and conduct domestic law enforcement activities. The press conference also came on the heels of a petition delivery, led by Win Without War, Daily Kos, and a cross-community coalition, of more than 100,000 signatures to the DOD IG. The petition urged the DOD IG to investigate whether the deployment of troops to the border violated the Posse Comitatus Act (PCA), a longstanding law that prohibits the U.S. military from conducting domestic law enforcement.
The citizen action echoed the letter in mid-September by Representative Grijalva and 33 other U.S. Representatives urging Acting DOD IG Fine to investigate seven questions related to the legality, conduct, and coordination of the nearly 7,000 active-duty and National Guard troops on the U.S. southern border. The letter was supported by more than thirty national organizations representing tens of millions of Americans and a broad cross-section of communities across the United States, including immigration, foreign policy, human rights, civil rights, veterans, climate, faith, women's rights, LGBTQ+ rights, peace and security.
"Trump's policies of demonizing immigrants, separating children from their families, and militarizing the border with troop deployments and a border wall are an affront to the people who have called border communities home for generations," said Congressman Raúl M. Grijalva. "Congress and the American people deserve to know why the Trump Administration is politicizing our military and whether the Trump Administration is forcing them to violate federal law under his orders. The military and border communities should not be pawns in Trump's political games."
"I have long fought against unauthorized use of our military – and the US military has absolutely no role in enforcing our domestic laws. The fact that Trump continues to use the military as his own private militia shows just how little he understands our laws and Constitution," said Congresswoman Barbara Lee. "By greeting asylum seekers with tear gas and guns, Trump is making it clear that immigrants are not welcome in his America – but we cannot let that become our America. We must all keep fighting to stop Trump's xenophobic agenda – whether it's funding for his ridiculous wall, his discriminatory public charge rule, or the unconstitutional Muslim ban. It's time to declare once and for all that America has always been, and will always be, a nation of immigrants."
"We have always known Donald Trump's phony 'emergency declaration' was a lie. And we know it was inspired by bigotry. What we are asking today is was it illegal. We are concerned that in his political drive to create fear of immigrants, Trump has violated the Posse Comitatus Act in order to unleash the might of the military against unarmed immigrants and refugees," said Congresswoman Judy Chu. "We cannot allow Donald Trump to trample our laws. And we certainly cannot allow him to break the law in order to promote a dangerous and racist agenda. In our letter we raise seven clear points of concern that the Trump administration has acted improperly and illegally. For the sake of our democracy, we must get to the bottom of this abuse."
"We are here to demand to know why our military forces are being politicized at the southern borders," said Congressman Juan Vargas. "We are here today to ensure that our country keeps military and law enforcement separate. Deploying our troops to the border is a misuse of federal resources and taxpayer money, and Trump's decision to deploy troops to the border could be a violation of [the] Posse Comitatus act as we just heard. That is why we are demanding that the Department of Defense investigate the deployment at the borders."
"Donald Trump's relentless efforts to make political pawns out of our service-members and make our borders more war-like is a move right out of the authoritarian playbook," said Mariam Iskajyan, Program Manager for Policy and Advocacy, Win Without War. "Today and every day, we will not stop fighting for a better world. We will not stop making our nation the welcoming and loving home it aspires to be — for all people, regardless of where we were born. … We can be a nation that is not numb to the suffering of displaced peoples across the world, and recognizes its own role in fueling the very conditions that force people to flee in the first place."
"Abuses on the border are not happening because of a resource crunch. They are happening because of Trump administration policies designed to inflict harm on immigrants and deter asylum seekers" said Jesse Franzblau, Senior Policy Analyst, National Immigrant Justice Center. "The recent revelations regarding Stephen Miller's affinity for White Nationalism is demonstrative of the anti-immigrant agenda behind these hateful policies."
"The border region is not a theatre of war. It is my home, and the home of 15 million other people. It is where we are raising our families in culturally rich, naturally beautiful, and economically vibrant communities that serves as gateways to the nation's largest trade partner–Mexico," said Andrea Guerrero, Executive Director, Alliance San Diego and representative of the Southern Border Communities Coalition. "We do not need more of the same dangerous militarization of our homelands. We need a New Border Vision that leads with our values, holds government accountable, and creates well functioning gateways to a better future."
"The men and women of our military serve our nation to protect it from threats, foreign or domestic. But the families seeking asylum at our border do not threaten our national security," said Bishop Garrison, Director, Veterans for American Ideals and National Security Outreach, Human Rights First. "These deployments erode readiness, but just as important, they damage morale and the relationships our service members have with the military and civilian authorities,"… "Deployments like this interrupt their lives and again takes them away from loved ones for a mission that is unclear, expensive, unnecessary, and potentially illegal. Vulnerable communities that seek refuge within our borders should be met with compassion and hope, not with our warfighters."
"This just ain't right," said Reggie Hubbard, Congressional Liaison/Washington DC Strategist, MoveOn. "At our best, we are a country of hope and inclusion. At our worst, we are isolationist, and full of hatred and exclusion. We are better than that. It's just that simple." He concludes by saying "racism is exhausting. But we must never tire from doing what is right. When the government lies, we must speak our truth loudly and unashamedly… When you violate the law, you must be called to account."
To watch the full press conference, see here.
To learn more, please visit www.vfai.org/, www.immigrantjustice.org/, www.moveon.org/, www.southernborder.org/, and www.winwithoutwar.org.
November 15, 2019