Statement: House Gives In To Pentagon Contractors, But Momentum Is With the People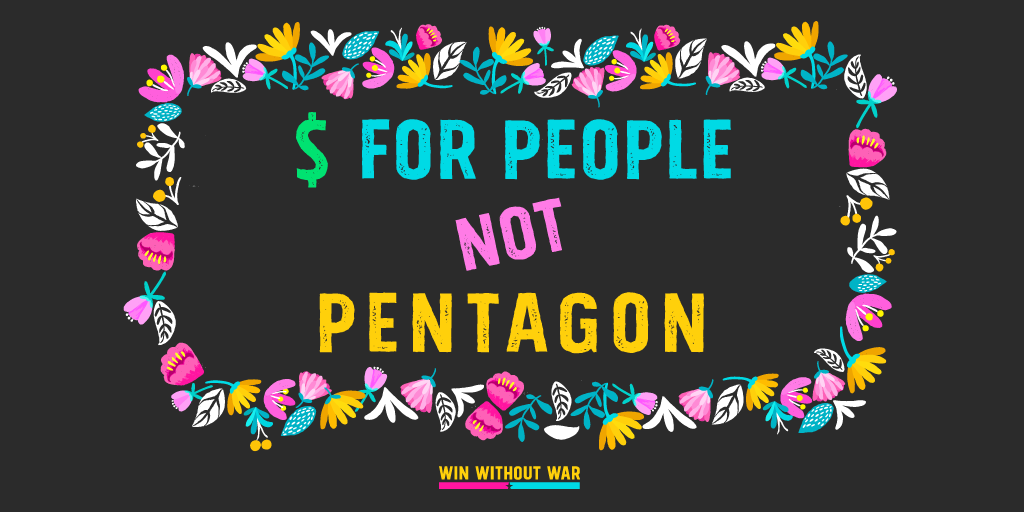 ---
Last Updated on October 7, 2021.
WASHINGTON —Win Without War Senior Washington Director Erica Fein released the following statement regarding House votes on amendments 40 and 41 to the Fiscal Year (FY) 2022 National Defense Authorization Act (NDAA). The former, introduced by Reps. Ocasio-Cortez and Pocan, would have cut the Pentagon budget by 10%, and received a vote of (86-332). The latter, introduced by Reps. Jacobs and Lee, would have reduced the topline by $24 billion, and received a vote of (142-286):
"Many in Congress are beginning to see what the people of the United States have long known: it's time to cut the Pentagon budget.
"Though the House ultimately failed to stop this reckless three-quarter of a trillion dollar budget, a majority of House Democrats, led by bold progressives like Reps. Lee, Pocan, Ocasio-Cortez, and Jacobs, cast their votes in opposition to increases to Pentagon spending beyond the President's budget request level. This vote signals where the Democratic caucus truly stands, and gives Democratic leaders leverage, ahead of negotiations around full year appropriations. We hope they choose to use it.
"Funneling trillions of dollars into weapons and wars will not keep us safe. The last twenty years of endless global warfare have been an unequivocal failure, and the greatest threats to our security — inequality, climate change, pandemics — have no military solutions. It's time our budget reflects that.
"Excessive Pentagon spending not only siphons financial resources away from our real security needs — it also takes away much-needed jobs. Every federal dollar spent on war creates less jobs than an equivalent investment in education, healthcare, or climate action.
"We cannot continue to endanger the public for the sake of arms dealer profits. And the people know it: the majority of the U.S. public supports cutting the Pentagon budget. Today's votes show that their voices are starting to be heard.
"The House may have failed today, but history, and momentum, are on our side. As we look to the budget fights ahead, it is clear that it's time for a change. We can — and will — build a budget that puts people over the Pentagon."
###
Win Without War is a diverse network of activists and national organizations working for progressive foreign policy in the United States.
September 23, 2021