Win Without War: Time Is Running Out For Yemen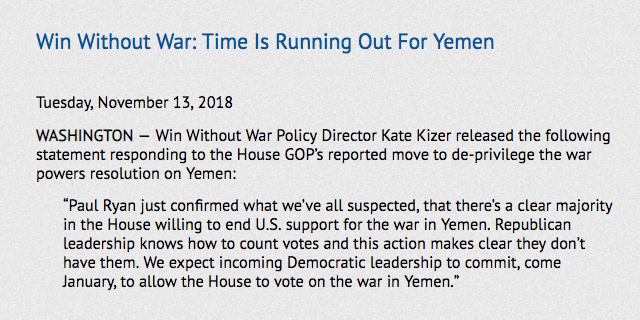 ---
Last Updated on November 13, 2018.
Tuesday, November 13, 2018
WASHINGTON — Win Without War Policy Director Kate Kizer released the following statement responding to the House GOP's reported move to de-privilege the war powers resolution on Yemen:
"Paul Ryan just confirmed what we've all suspected, that there's a clear majority in the House willing to end U.S. support for the war in Yemen. Republican leadership knows how to count votes and this action makes clear they don't have them. We expect incoming Democratic leadership to commit, come January, to allow the House to vote on the war in Yemen."
###
Win Without War is a diverse network of national organizations working for progressive foreign policy in America.
November 13, 2018